PSC had a thrilling week presenting events in collaboration with the Melbourne Spring Fashion week, on 30th August and 2nd September. It was a special occasion where we got to sponsor high profile names in the arts industry, truly making us stand out as a stellar institute where our staff and students are exposed happenings in the industry.
Commencing with the high-energy fashion photography master class, Ed Purnomo stepped in as our guest instructor, with his amazing team and received many keen photographers to workshop shots and styles with.Our guests learnt different poses and lighting styles for three fashion genres which encompassed shooting a "beach" scene (outside) using natural lighting and modifiers (diffusers & reflectors), as well as a full length studio portrait utilizing modifiers to sophisticate the light. Other techniques covered in the master class played with the effects of using strobes and flash lighting, whereby different coloured backdrops brought out certain qualities and degrees of illumination. Closer portraits were also touched upon, where a mix of flash, store and unconventional lights such as fluro tubing, phones and other reflective surfaces (such as sequinned dresses and compact disks) were all experimented with.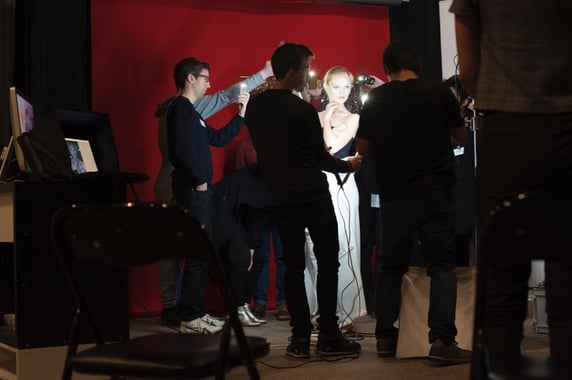 Ed Purnomo himself had a fun experience and we are so glad to have had such a talented and exclusive photographer amongst us. Learning how to work with models and practicing lighting techniques, were priorities in the master class, allowing those who attended to walk away with a whole new set of skills up their sleeves.
[video width="640" height="640" mp4="http://www.psc.edu.au/wordpress/wp-content/uploads/VID_152161203_230015.mp4" loop="true" poster="http://www.psc.edu.au/wordpress/wp-content/uploads/Roland-Still.jpg" preload="auto"][/video]
Following the hands-on master class event was our Image Makers Seminar, that spurred questions and conversations about the styles and intentions of legendary fashion photographer, Guy Bourdin. The event opened with a sneak preview of the documentary 'When the Sky Fell Down : The Myth of Guy Bourdin', which featured many of the fashion industry's finest names (Edmonde Charles Roux, Jean Paul Goode and Jerry Hall), directed by Sean Brandt (producer, photographer). Susan Van Wyk (senior curator, NGV) was also present, giving an in depth summary of Guy Bourdin's background and talking about characteristics of his work.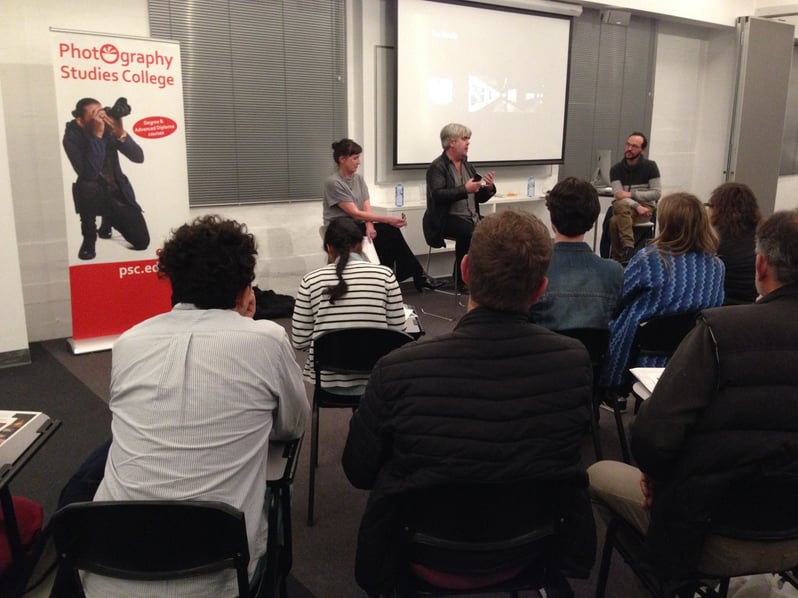 Having worked with Guy Bourdin for 7 years as an assistant, Sean provided many personal anecdotes that added to the visuals presented in his raw and intimate documentary. Sean described Guy as an 'anarchist' in the world of photography, breaking all the rules and forming his own distinct style of the 'allusive narrative', expressing his awe at the same time by stating that 'before Guy arrived, people were capturing moments – Guy created moments.'
Susan van Wyk too reminisced about the golden period of fashion photography, as she looked back on how showcasing such powerful artists of the yesteryears, still remains successful with young audiences today. Taking the example of the first Guy Bourdin exhibition unveiled in Australia, with the reopening of the NGV in 2003, Susan relayed how impressive it was to finally let his work be seen by the general public.
The Q&A session made the Melbourne Spring Fashion Week at PSC culminate into a thought provoking celebration of fashion and its incredible photographers. We had a great tie-up with the Melbourne Spring Fashion Week and were extremely proud to give our guests the complete experience of being part of the fashion world. We hope to see many of you again for our other upcoming events, as PSC has definitely paved the way for ourselves as the frontrunner of everything scintillating in the culture capital; Melbourne city.