Creative lighting on location was theme-of-the-month for Advanced Diploma Photojournalism majors in August.
On Thursday August 20 Scott McNaughton served up some of the creative environmental portraits he produces day in and out for The Weekly Review and other Fairfax suburban publications. Age features specialist Simon Schluter followed with a slide show that included portraits lit with everything from seven speedlights to a data projector, car headlights and a burning rope soaked in kerosene.
Both photographers also conducted a show-and-tell with their location lighting kits. Simon Schluter's most useful accessory? Gaffer tape, and plenty of it. Scott's current addiction? Coloured gels. Best home-made snoot for a speedlight? Cut the bottom out of a neoprene stubby holder.
The entire PJ class then got a taste of press life during a full-day location flash workshop on Aug 22, in which they carried out a variety of editorial assignments in the Southbank area, working to mock briefs similar to those carried out by news and feature photographers on a daily basis.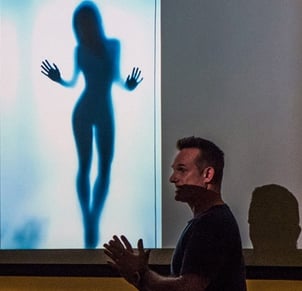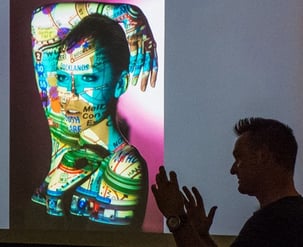 A number of L2FT and L4FT students, along with several other volunteers, came along to be photographed in the roles of various professionals. Working in pairs, PJ students were given two assignments to complete in three hours, with specific instructions as to location, subject/s and the kind of photographs needed. In all cases the use of off-camera flash was mandatory.

After editing back at PSC, a slide show of the best work followed the 3:30pm filing deadline, with lively feedback focusing on the quality and creativity of the images and how well they addressed the brief.
[Written by Photojournalism Teacher, Bill Bachman]
For more information about our courses and subject outlines visit our Full Time Studies Page.