Our Masters Of Arts -Photography programme continues to gain momentum with our second featured Mentor, Melinda Gibson.
Melinda is based in London and is currently a Lecturer in Photography at Camberwell College of Arts. She was nominated for the Meijburg Art Commission in 2015, Foam Paul Huf Award in 2015 and 2014, selected as one of the Jury members for the Unseen Dummy Award 2013 and winner of the Foam Talent Call and Magenta Foundation Award in 2010.
Gibson exhibits and is published internationally. Selected shows include: The Smoke House Performance, Tate Modern, Turbine Hall, WOW Festival, Southbank Centre, Rien Que Pour Vos Yeux/ For Your Eyes Only at Rose Gallery in Santa Monica, Beijing Silvermine at Galerie Paris Beijing, The Constructed View: UK Photography Now at Dong Gang Museum of Photography, South Korea, Houston Centre of Photography, Centro del arte Contemporáneo de Cadiz Spain, Perth Institute of Contemporary Art, ACP in Sydney, Flowers Gallery, Quad Gallery as well as exhibitions in Pittsburg, Hamburg, Turku Finland and Amsterdam.

Selected publications include, Nowness, AnOther Magazine, BJP, Objektiv, MB! By Mercedes Benz, Foam Magazine, Harpers Bazaar, AOP, Independent, The Photographer's Playbook by Aperture and Magenta Foundations 10th Anniversary Top 100 UK Photographers. Her work was included in Aperture's new title 'SPBH – A DIY Manual' and 'Beg, Steal, Borrow' edited by Robert Shaw.
Melinda has published three titles:
'The Photograph As Contemporary Art',
'Miss Titus Becomes A Regular Army Mac' and '13213 -SPBH Photo Book Club Volume VI'.
Her first and third titles were awarded Best Books of 2012 & 2014 by Photo-Eye.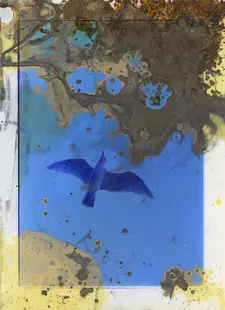 About Our Masters Mentor Programme
The Photography Studies College Masters programme is underway and our students are currently working with their Mentors – a unique part of the programme where we pair students up with high-profile photographers in Australia and internationally for an extended period of time to help them with their projects.
This semester our Mentors include:
Rena Effendi (Azerbaijan), Melinda Gibson (UK), Robert Zhao Renhui (Singapore), Rohan Hutchison (Australia), Mathieu Asselin (France/Venezuela)
Over the next few weeks we will be featuring each one of our Mentors, and telling you more about their work.
Applications are now open for the Mid-Year intake for our Masters Of Arts -Photography programme

starting 16 July 2018.
The Photography Studies College MA Photography is an 18-month programme, and the only Masters of its kind in Australia and the Asia-Pacific. Fee-Help is available for domestic students.
Email PSC Course Director Daniel Boetker-Smith for more details - dboetkersmith@psc.edu.au