For more than a decade Rachel Main, PSC's Master of Arts Photography student, has been documenting the local Krump scene. She is now focusing on female dancers in Australia and New Zealand for her MA project with the working title 'Session Queens'. Krump, a form of dance, made its way from the streets of South-Central in Los Angeles to the Victorian suburbs of Dandenong, Roxburgh Park and Werribee. Rachel who is also a freelance photographer and filmmaker, and a high school teacher, talks about being a community documenter and her current work.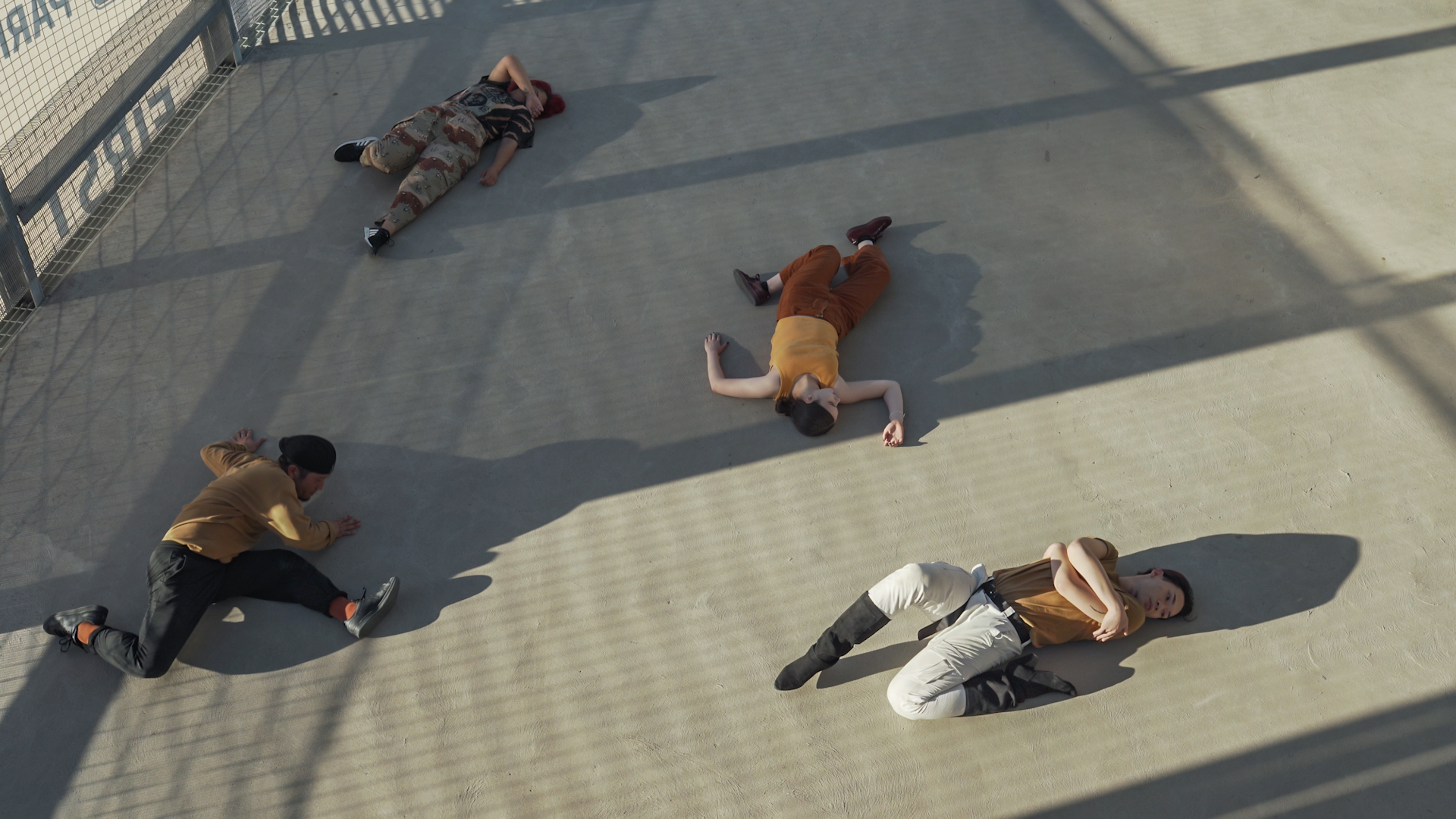 © Rachel Main, Surface, video still , 2021
What exactly is Krumping and when did you start documenting it?
Krump is a dance that evolved from the 'clowning' style in the streets of South-Central Los Angeles in the early 2000s, later dispersing across the world. Known for its raw, hard-hitting and volatile qualities, the dance offers an emotional release and vessel for storytelling. I have been involved with the Melbourne and Australian Krump scene for over 13 years, initially joining the community to learn the foundations of the dance and connect with others. Over the years, my role diverged to become the community 'documenter'. This transpired primarily on a pragmatic level – no one was recording the sessions or battles at the time and I had access to a video camcorder from the school where I was teaching.
Where, when and how did Krump start in Melbourne?
In Melbourne, Krump emerged in the streets of Dandenong around 2005 and quickly spread through the Northern and Western suburbs. Initially, sessions were held in suburbs including Dandenong, Roxburgh Park, Werribee and various spots around the city. After a couple of years, the numbers of Krumpers dwindled and the session location became centralised to the city so that everyone could access it more easily.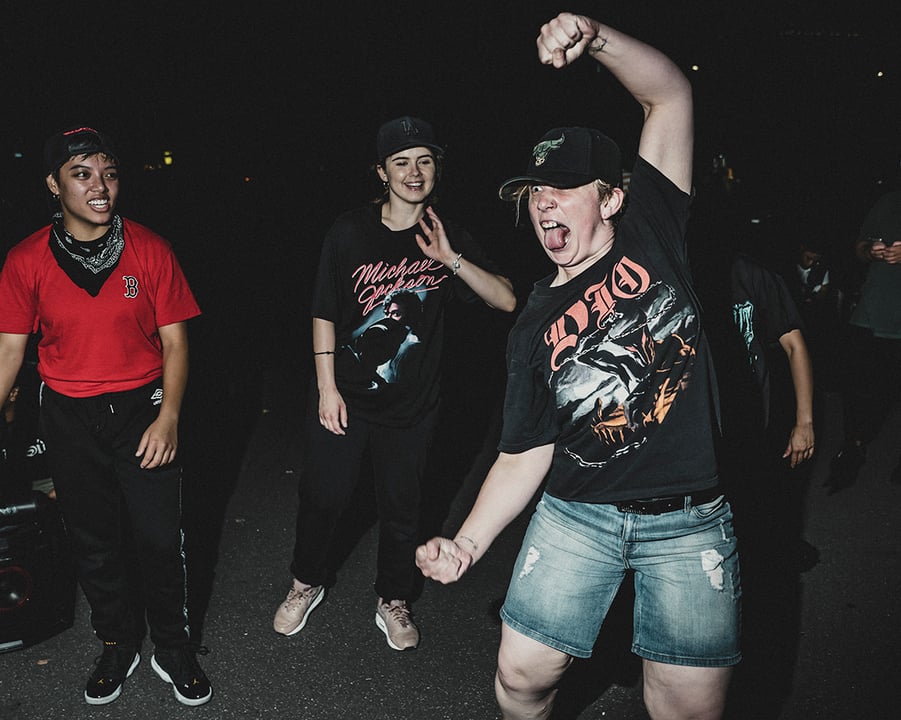 © Rachel Main, Session Queens: Female Krump in Australia and New Zealand
What would you like people to takeaway from your work?
I aim to provide an insight into the Melbourne and Australian community, emphasising the journeys and stories of the individual Krump dancers. I hope the work fractures stereotypes of the dance and dancers, presenting more plurality and nuance and highlighting the juxtapositions between the ferocity of the style and the everyday life of the dancers; which is often focused on family, faith and work. I hope to provide a window into an intimate and beautiful world of dance and community, providing a snapshot into 'non-mainstream' contemporary culture in Australia.
Tell us about your award-winning video 'Women Who Buck?'

'Women Who Buck' is a video work from 2019 that I completed with females from the Melbourne Krump community who were involved with the Zero Sessions – a space that catered for females to learn the foundations and develop their Krump with zero expectation and judgement. These sessions were originally started in Sydney by Red and Nova who felt the need to nurture and encourage women to become part of the Krump community as the ratio of male to female dancers has always been very unbalanced. The video work featured eight women who were at various stages of their dance career: Aleena Panagopolulos, Ariadne Concha, Desiree Dolenzo, Kayla Hamilton, Lesley Huang, Shanice Nagy, Suisse Lacerna and Troi-Saraih Ilsley. The work hoped to explore how Krump can be used as an act of resistance and solidarity and also challenge norms regarding the female body. Women Who Buck was shown at the 2019 Gertrude Street Projection Festival where it won the Judges Award.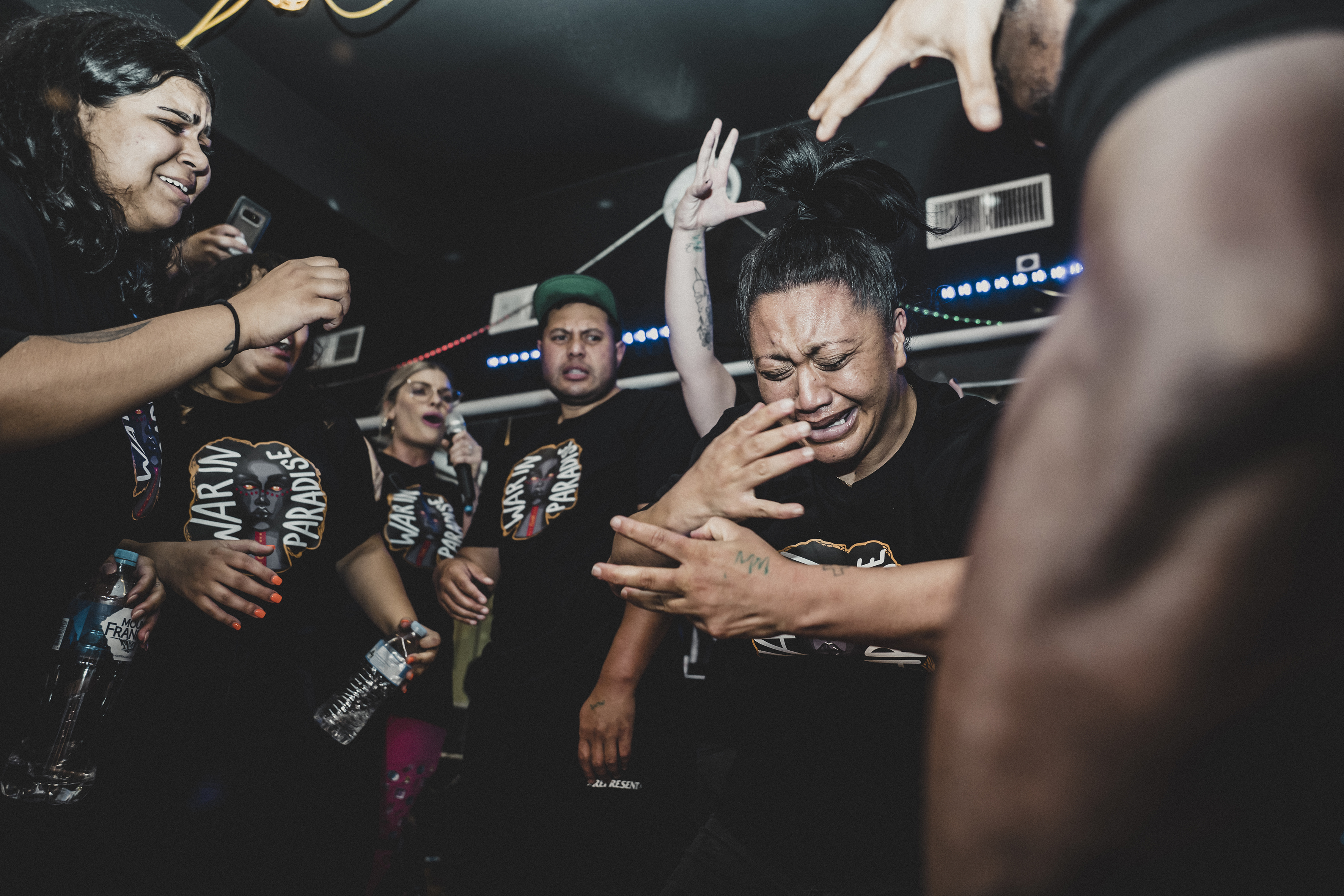 © Rachel Main, Red, War In Paradise, 2019
Why have you decided to do a Masters at this point in your career and life?
The decision for me to do the Masters at this point in my career was a very personal one. I experienced some big changes in my life and as a result I re-evaluated where I was at and where I wanted to be. I felt that it was the right time for me to challenge myself and prioritise my practice and so after doing some research, visiting campuses and speaking to course co-ordinators, I decided to apply for the Master of Arts Photography at PSC.
Is your Masters project an extension of your series on Krumping?
My MA project is an extension of my previous work, but I'm working only with the female Krumpers from Australia and New Zealand, inviting them to share their perspectives and experiences. Ideas associated with identity, body, expression and movement are also being explored through both expanded documentary and socially engaged frameworks allowing for participation and collaboration. I have been working in fairly isolated conditions over the years as a photographer and videographer – and so I am excited to become part of a wider community of artists. I want to become more cognisant about my process and think more widely and deeply about the work and actually spend a period of time consistently developing it.
© Rachel Main, Queen Trespass, War In Paradise, 2019
Tell us about your experience doing your Masters at PSC?
The Masters program at PSC has enabled me to advance my practice through engaging with dedicated teachers and a comprehensive curriculum. I feel supported and comfortably challenged to further develop my practical skills and thinking, allowing for new ideas and ways of working. I'm excited that we are now back on campus and able to make use of the excellent facilities and meet with our teachers and colleagues face to face!
You are also on a number of national and international art panels as a student of PSC – how have these opportunities helped your practice?
I feel very grateful (and surprised!) to have been asked to be part of these panels. It has definitely helped to build my confidence and allowed me to meet new people and to share my work with a whole new audience which has been really exciting.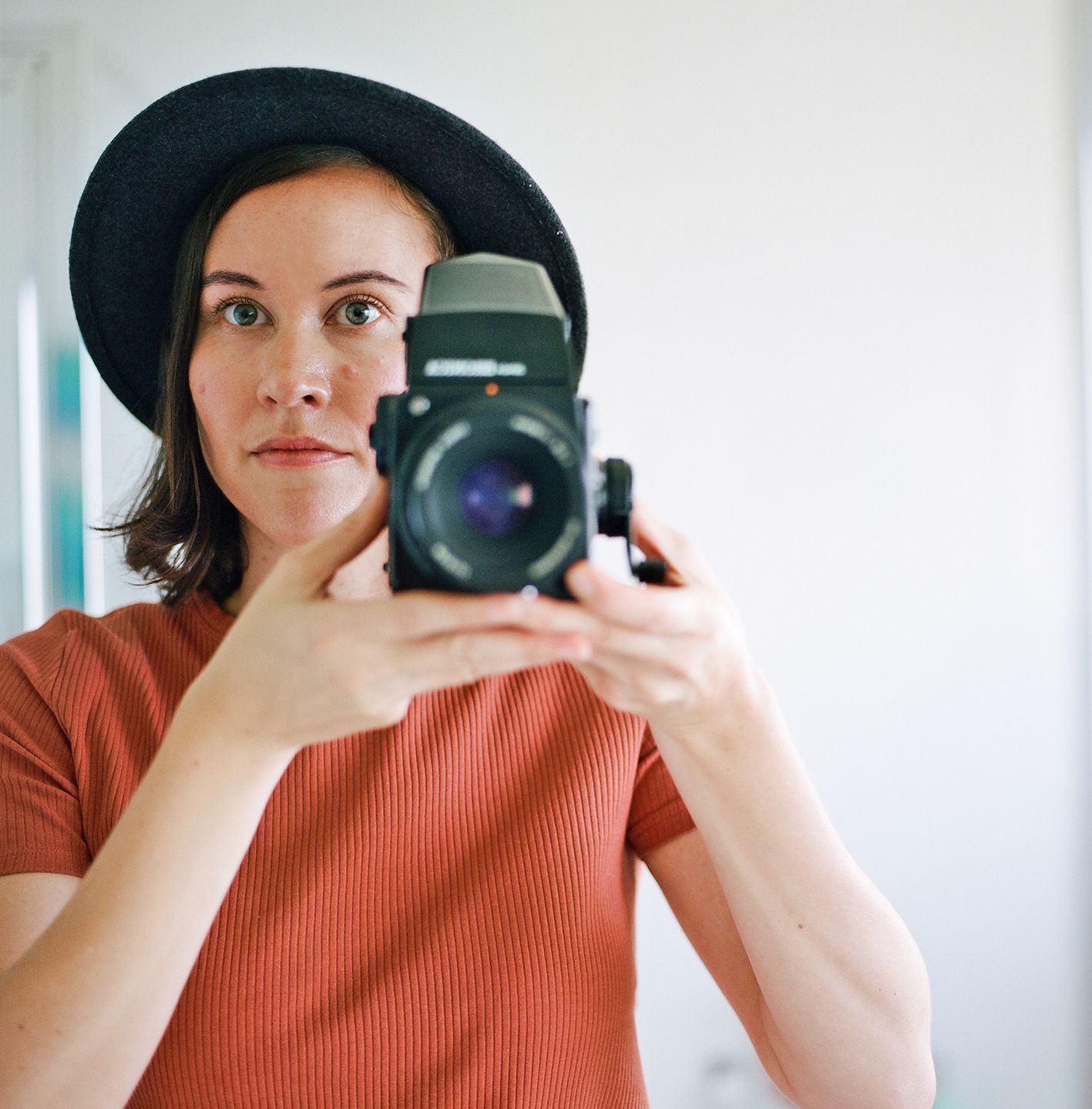 © Rachel Main, Self-Portrait
Tell us a bit about your career as a photographer, filmmaker and teacher?
Like most artists, I have generally juggled a number of things going on at once. Prior to studying, I was teaching four days a week at a high school, running my freelance business and then also completing additional personal projects. However, I knew that I wouldn't be able to sustain that to complete the Masters and so I took leave from teaching. At the moment, I am in the last month of an artist residency at Brimbank Council, but after this I will be focusing on my MA project, freelance work and perhaps some relief teaching. I discovered early on that I like stability but don't like doing the same thing every day. Finding that work-life balance has been difficult, but it is possible and I've just had to work out what my priorities were and put in appropriate boundaries.
You are on PSC's panel for our upcoming Masters info night, why would this be beneficial to someone thinking about doing their MA, even if they feel they are not quite ready yet?
It's always a bit daunting beginning something new, especially if you are in two minds about it but I think meeting face to face with the teaching staff, students and experiencing the campus is the best way to actually feel what it could be like to embark on your study and be a student here at PSC.
Meet Rachel at our upcoming Masters information session with PSC's Dean of Photography Daniel Boetker-Smith, and PSC's Master of Arts Photography Convenor Kristian Häggblom. It will be held on Tuesday 13 April at our South Melbourne Campus (6:30-7:30-pm) and via Zoom (5pm-6pm).
Follow Rachel on Instagram at @shuttermain and visit here website at www.shuttermain.com