Photographers need business skills to excel in a competitive environment. Whether you're starting a business, freelancing or employed full-time, you have to understand your value, learn how to achieve your goals, and beat the competition. Working in a creative field, you also require a healthy dose of reality. PSC's professional practice lecturer, Devika Bilimoria, an award-wining visual artist with work recently showcased at the National Portrait Gallery, teaches our students the real-world skills to help make their dreams come true.
We ask Devika how she preps our students for the real world, about developing a plan for when they graduate, and her top two tips for business for photographers.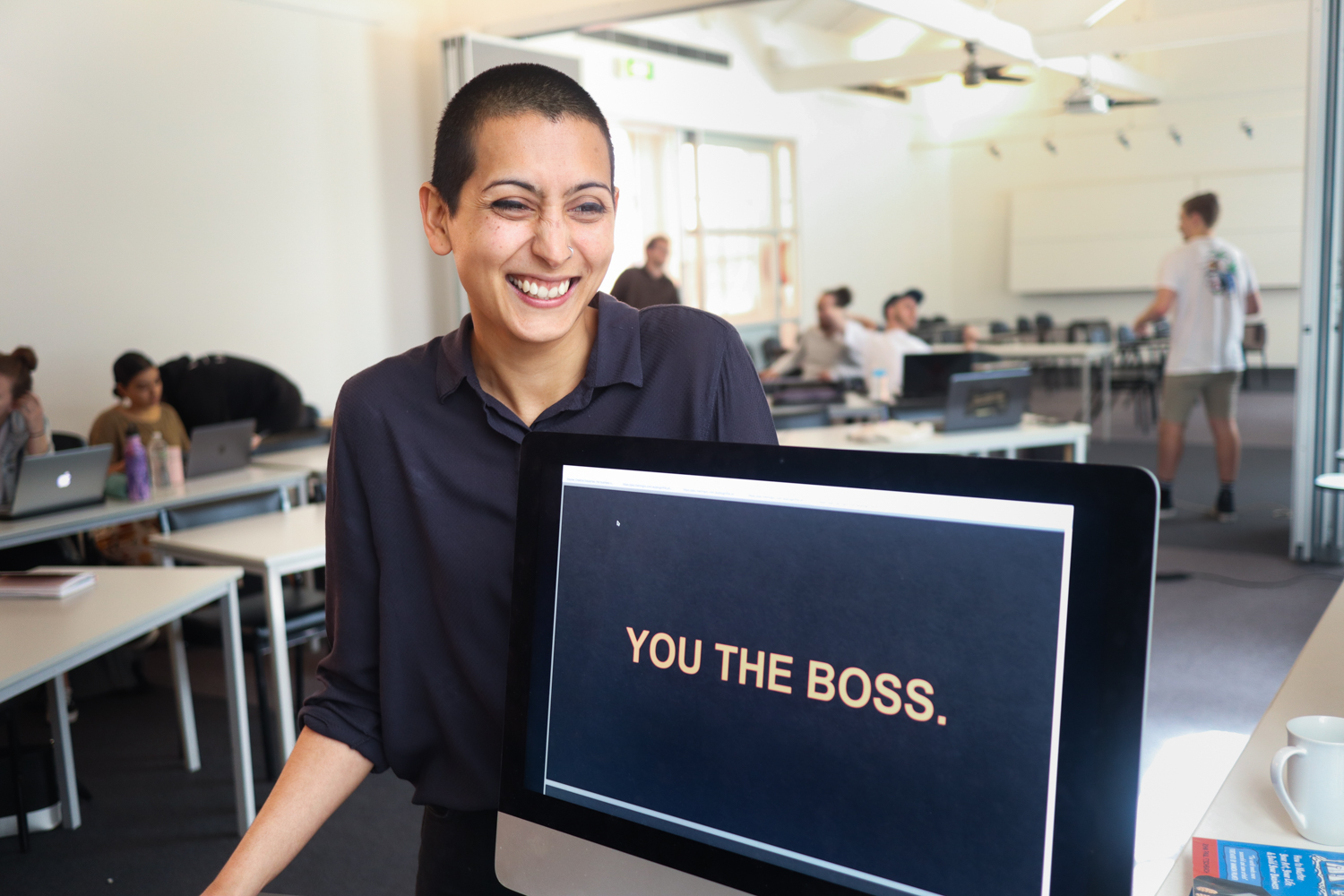 Devika at PSC just after class.
Tell us about PSC's business for photographers class?
The entire course continually refers back to being a photographer and how to make the world work for you and your creative goals and objectives. There is a good dose of reality with a strong rhetoric of passion and perception. Its really a "YOU THE BOSS" class, aka, "dreams can come true"…if you put in the work.
How do prepare our students to excel in the real world?
We prep the students with a business plan for the final assessment for this class, so it equips students with a document and a timeline for the first year they leave college. We focus on their vision, goals and objectives over 24 months to have them think about what they want and need to do after the structures of college fall away, but also how connection and experience in the college will keep you afloat in the bigger wider world. Together we work through making a coherent document that they can refer to when they leave.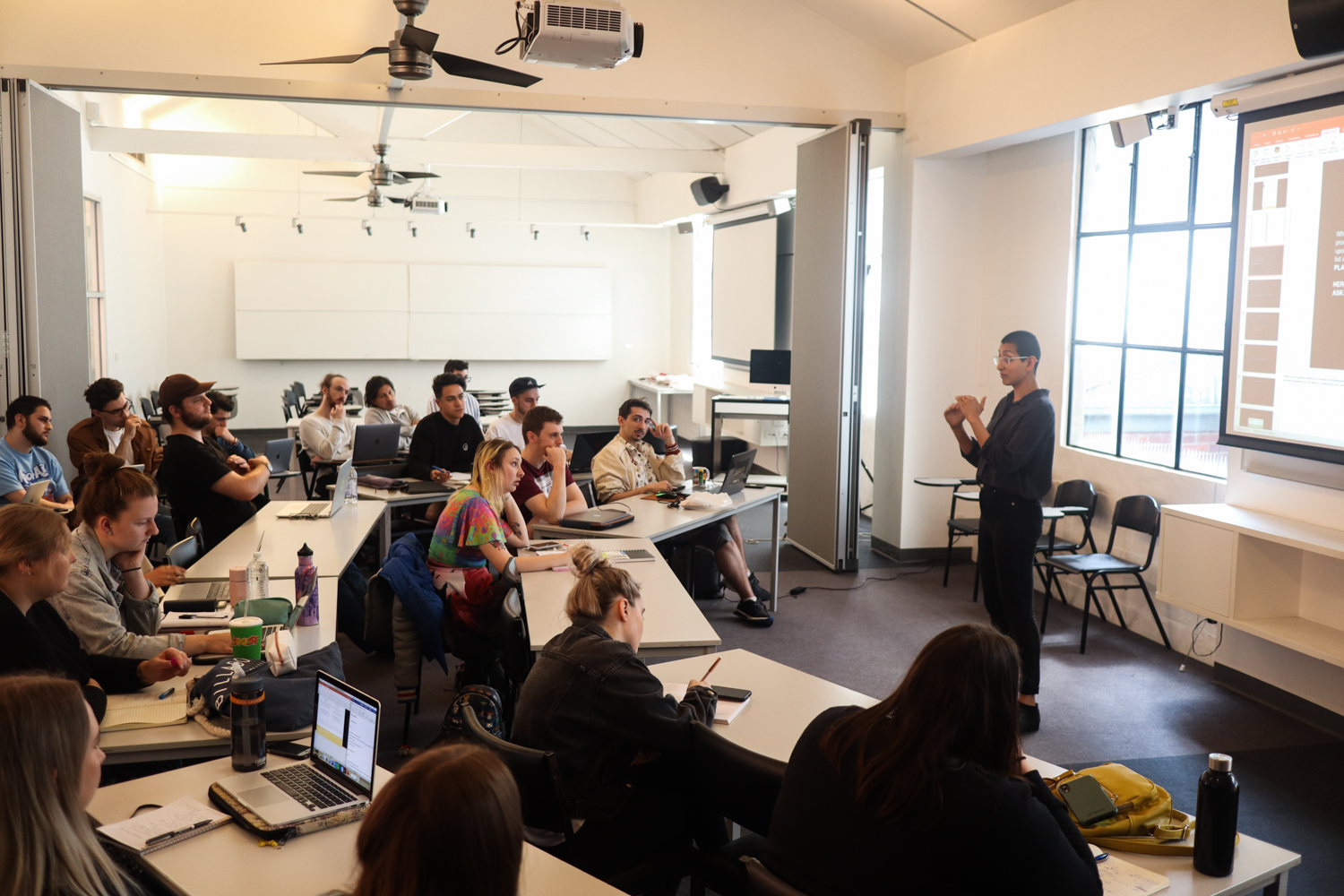 Devika teaching our third year Bachelor of Photography students at PSC.
Why is it important for photographers to learn business skills, and especially while still at college?
Learning about business alongside creative learning practices is a great way to get students ready for the transition and expectations in their world after college. A lot of photographers that come through the college will start by freelancing or begin their own business, so being aware of what that means legally, financially and structurally is crucial to beginning a life as a photographer.
Is this useful for photographers that are not starting their own business or freelancing why?
Absolutely. This course equips you with the knowledge of how to be a self-sustaining artist, photojournalist and commercial photographer in many capacities, it allows you to see where you sit within the photographic industry. Professional means getting paid for your work, so if you are a professional photographer you need to have an ABN and meet specific obligations. Even if you see yourself as an artist, you will need to know what applies to you and what doesn't while you practice (ie, insurance, obtaining grants).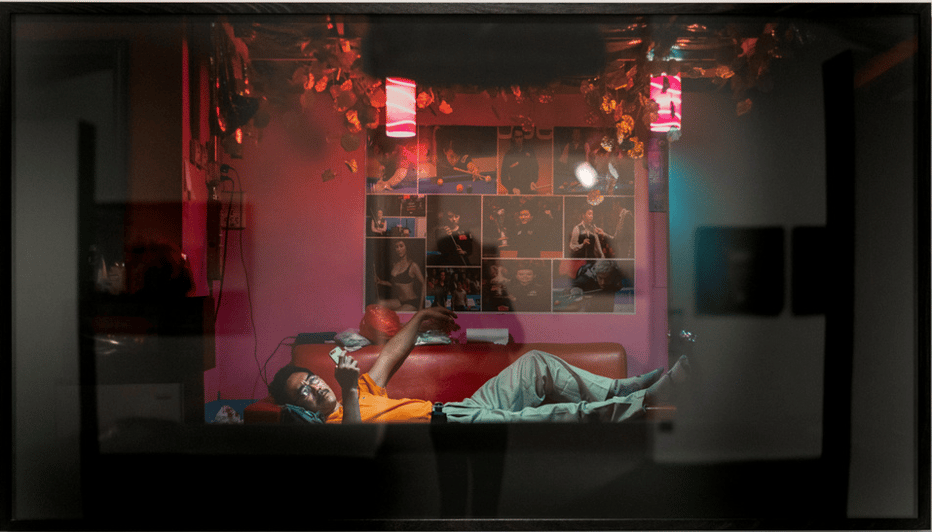 Framed image by Devika 'Pool Hall' shot in Chinatown, New York. Finalist, William and Winfred Bowness Photography Prize, 2018.
Can you give our readers two tips about business for photographers?
1. Meet people. Network in industries outside your comfort zone. Photography is very social even if you shoot buildings of still life – your clients are people.
2. Do your research. Know what you're worth in relation to your peers, elders and experience. This will help you find confidence in the price and style of your service/product, which gains trust and desire from your client.
Tell us a bit about yourself and your photography?
I am a freelance photographer and multidisciplinary artist predominately focusing on video art. I have been exhibiting nationally and internationally with some of my work being selected as finalist for the Bowness Photography Prize 2015 and 2018, the Nillumbik Art Prize 2016 and 2018. In 2015 my debut video art piece An Arctic Time Signature screened at the National Portrait Gallery for the Macquarie Digital Portrait Award. Presently, I am performing a video and live body solo at Dancehouse as a part of the Sangam Performing Arts Festival of South Asia and Diaspora, which sees an exploration into how learning the steps of Bharata Natyam (Indian Classical Dance) in reverse can reveal expectations of correctness, purity and encoding.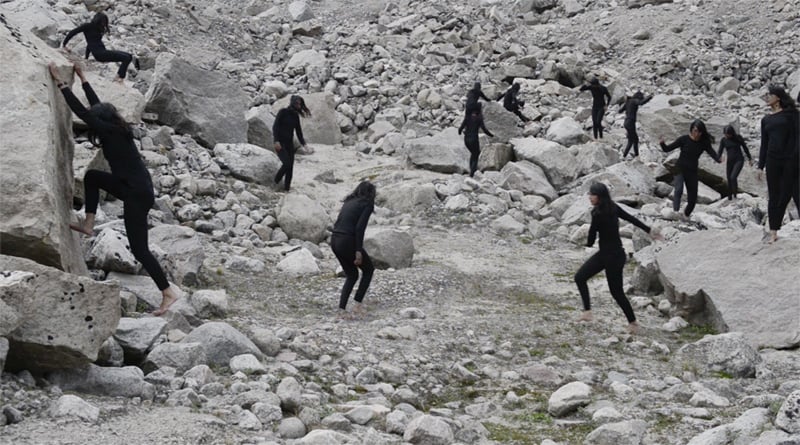 A still from Devika's video 'Arctic Time Signature', which screened at the National Portrait Gallery.
What do you enjoy the most about teaching at PSC?
I love being amongst the energy of making and thinking at Photography Studies College, teaching alongside so many incredible artists and professionals who are also giving the best of themselves, wisdom and practice to the students. It's a great hub of activity – and I have enjoyed seeing my Bachelor of Photography students develop, to then see themselves with clear vision throughout the semester.