PSC's students Susan Brunialti and Kim Nguyen scored Gold Awards (prints over 90) at The AIPP Australian Professional Photography Awards 2019. Another student Oliver Stewart achieved Silver Awards for each of his three prints. Based on the high achievements of our students, PSC was one of only two finalists for the prestigious AIPP Australian Tertiary Photography Institution of the Year. We asked Susan and Kim to tell us about how they created their highly ranked images and passion for photography.

Image by Susan Brunialti
On August 17, the Peoples Choice award winner for the MAGGIE DIAZ PHOTOGRAPHY PRIZE was announced at Brightspace Gallery. Her image 'Solitude' also won the Peoples Choice award.
Susan is constantly contributing and engaging with the Melbourne photography community. She is also a volunteer at Melbourne Camera Club where she is Chair of the Program Committee, Social Media Coordinator, Exhibition Coordinator and on the Board of Directors. Susan also volunteers at the Monash Gallery of Art and is President of the Australian Association of Street Photographers.
What inspired you to create this Australian Institute of Professional Photography APPA Gold Award winning image?
Susan: I am inspired by the work of Australian painter Jeffrey Smart, where his use of light and shadows, form and repetition of shapes in the urban landscape draws me into his paintings. Being drawn to yellow and red in the urban environment "The Vault" or the name we commonly use 'Yellow peril' is a huge magnet for me. I previsualised my image a while ago with the blue, red and yellow colour combination. I needed to wait for a clear blue sky kind of day –– to achieve the strong colours in the buildings, I waited for the time of day when direct sunlight would be hitting the buildings to get maximum colour saturation.

Where did you take it?
Susan: My image is taken on Grant St, Southbank –– the rust colour building is the beautiful Australian Centre for Contemporary Art (ACCA) with The Vault sculpture in the foreground and the red Citylink exhaust stack running vertical through my image. The chair was a bonus! Actually there was a person sitting on the chair when I arrived but I guess I scared them away when I was walking around exploring different angles to take my photo, I ended up taking 25 photos that day!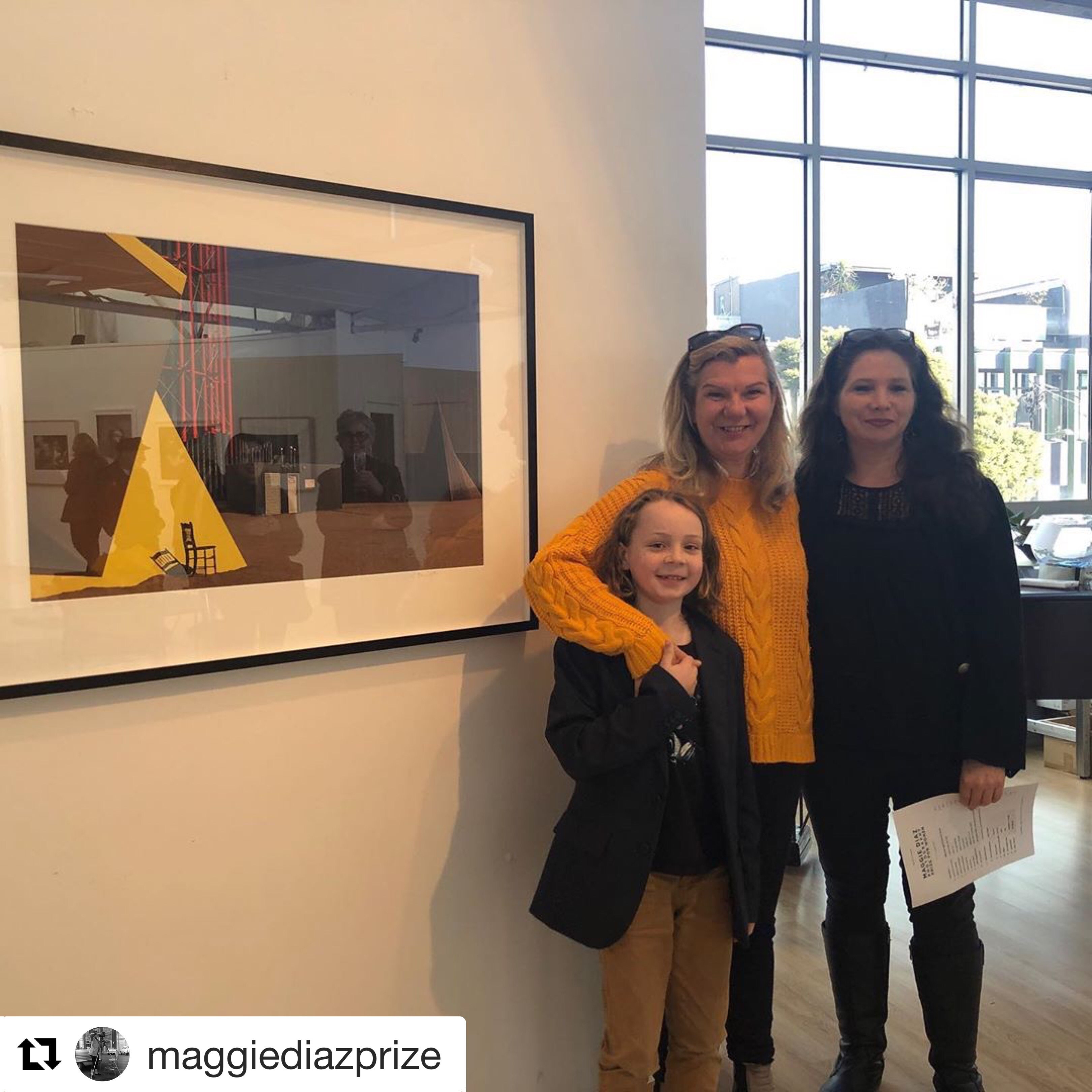 Susan pictured with the archivist of the Maggie Diaz collection, Gwen de Lacy
What advice would you give others wanting to enter APPA or other awards?
Susan: My advice is find a photography competition that matches your style of photography.


What genre of photography do you love the most?
Susan: Street photography and travel are my passion. Although I find these days when I travel, I'm waiting for the decisive moment! I love the thrill of street photography, using the urban landscape as my blank canvas to create candid, graphic compositions whilst looking to capture a sense of order amongst the chaos of everyday.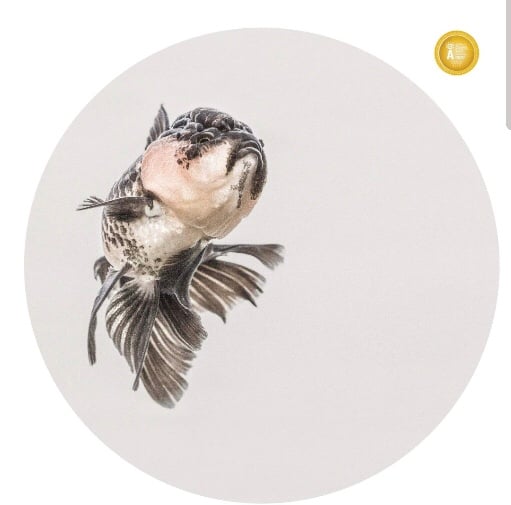 Image by Kim Nguyen
Kim Nguyen is pursuing her life's dream by studying photography. Since starting at PSC she has tapped into a creativity she says she never knew she had –– and has been given the tools to produce artistic work she is very proud of.
Tell us about your Gold Award winning goldfish image which you created for an assignment at Photography Studies College?
Kim: I wanted to create images of goldfish, which shows them having lots of personality. At the aquarium where I work, they are often overlooked, and I wanted to bring out their beauty and loveable side.
What advice would you give to others entering such awards?
Kim: My advice is to go to critique nights and get as much feedback from the judges, from your tutors (if you are a student). Watch the live stream judging in the category you are interested in and listen to the critique given by judges. It is such a huge learning experience, and there is a wealth of information.
Kim with her Goldfish series on display at PSC
Why do you think it's good as a creative to enter such awards but also have your achievements recognised?
Kim: Entering such awards allows us creatives to push ourselves out of our comfort zone, to really think about what we're shooting and what story we are trying to tell. It helps us see differently and teaches us how to improve our images.
Never in my wildest dreams did I think I would receive a gold award! It really is an amazing feeling and a very proud moment to also be recognized for all the hard work that's been put into create this final image.
What photography genres do you enjoy exploring?
Kim: I always loved portraiture and would like to develop my skills further in this genre. I also love fine art photography, coming up with personal concepts and capturing creative images that evoke emotions through colours, mood, shape form and theme.
Susan Brunialti
La Luce Photography by Susan Brunialti
Kim Nguyen
https://www.oneacorn.photography