This year PSC's Photography Tour visited the remote villages and stunning landscapes of Southern China, and Hong Kong. With a strong focus on photography education, it was led by PSC's Senior Fellow and renowned documentary photographer Michael Coyne. Participant and PSC's part time Advance Diploma student, Bruno Kortenhorst, shares his experiences about learning from a veteran photojournalist, what he captured and making new friends.
Photo of Bruno by Michael Coyne.
Why did you join PSC's Photography Tour of China?
There were many things that drew me to the tour: the sense of adventure, the chance to get to know fellow photography students, being exposed to the Chinese culture, and of course the opportunity to learn more from Michael Coyne. I had participated in the ANZAC Day weekend workshop with Michael a few months earlier and got a lot out of that too.
Which was one of your favourite locations?
This is an impossible question to answer. I loved the variety of the experiences. We moved around a lot, so we were able to explore many different kinds of locations, both in China and Hong Kong. We photographed both the urban and natural environments, from before sunrise till late at night.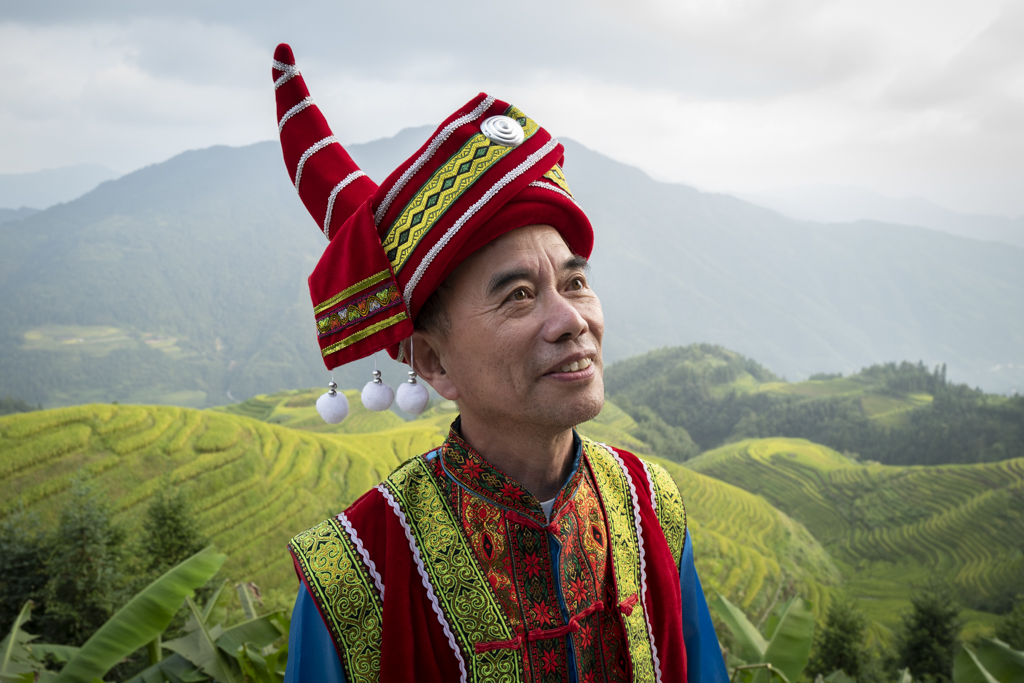 Photo by Bruno of a local villager at Ping An village.
This tour was designed to teach you more about travel and documentary photography so how would you rate it in educational terms?
While I have a broad interest in photography, I am most interested in documentary style photography. As this is what Michael does, I spent quite a bit of my time on this tour watching him, trying to see and understand how he 'gets in close' to capture what he sees. I noticed two things. One, that Michael is confident and quite assertive and clear in moving forward and with directing people. The second thing I noticed was that often he will engage with people for a while before he lifts his camera to take photos.
Were you able to put these observations into your own photographic practice?
On the second last day, during some time exploring in a park on my own I came across two men and two women playing cards. I moved in with my camera – as had been my habit. It was immediately clear that I was not welcome, with the women covering their faces. I didn't need to understand Chinese to get the message!
Then I moved on a little and saw a group of men sitting around a little table playing the Chinese version of chess. At that point I remembered what I had seen and heard from Michael: engage first, photograph second. So, I sat down at the corner of the table and watched the game for a while, looking at the men from time to time.
They seemed to be happy to have me there. Only then did I lift my camera and spent the next ten minutes or so photographing the scene, from down low at the corner where I was sitting and then moving around. By then I was both accepted and had become invisible. The men were so engrossed in their game that when I tried to thank them and say goodbye, they all but ignored me.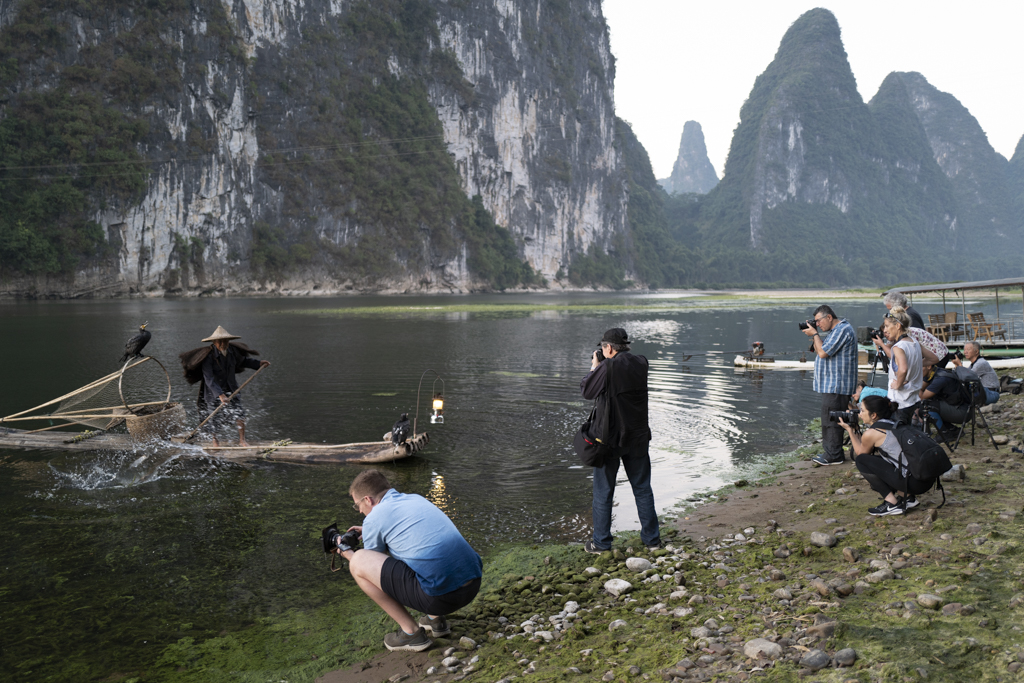 Photo by Bruno of Michael Coyne with the tour group.
What other ways of engaging with subjects did you learn on this tour?
There was another episode that I treasure. Michael recounted one afternoon how he had been invited into someone's house when we had half an hour to walk around one of the villages. As he went in and 'talked' with the people in the house he was offered some peanuts and a potato to eat. He accepted the offering and then took one or two photos before thanking them and leaving.
The next day in a different place I had my 'peanut moment'. I had stumbled upon a painting class in a laneway and did my best to engage with the students while also taking some photos. I had a lovely rapport with some of them and they wanted to take some selfies with me and then one of them offered me a packet of some Chinese snacks- my version of peanuts. While I didn't take great photos at that time, I really valued the experience.
I am a shy person at heart and this has opened a new way of engaging in my photography, more contactful and connected.
Did you make friends with your tour group?
Yes, we had a lovely time together. All of us got on well and especially meal times and the time spent laughing during transits were awesome. We have set up a WhatApp group and are still in regular contact with each other.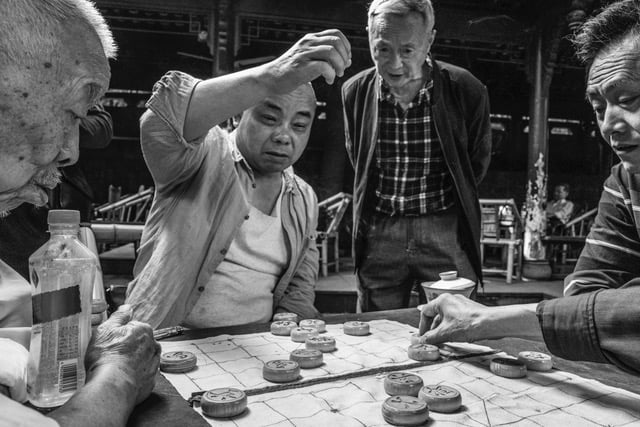 You are also a student at PSC, studying your Advanced Diploma part time. What made you join PSC and study photography?
I am 57 years old and have recently handed over the day-to-day management of our family business to my son. Having time on my hands I remembered the passion I had for photography in my twenties. I spent about five years at that time learning all I could about photography. Mostly self-taught and also doing a couple of short courses in B&W darkroom work and fashion photography. I was living in Florence Italy and also travelled a lot. In 1990 I migrated to Australia and life took me in a different direction, away from photography.
About five years ago I bought my first DSLR for a journey back to India, where I had spent a lot of time in the past. I visited Varanasi and took some interesting photos there in the slums and also an orphanage we visited. While I enjoyed the experience, I also felt quite frustrated, as I really didn't have any idea how to negotiate the digital environment.
This was the catalyst for me joining Photography Studies College. I wanted to rekindle my passion for photography and gain skills from the experts in the industry, to learn how to take professional photos .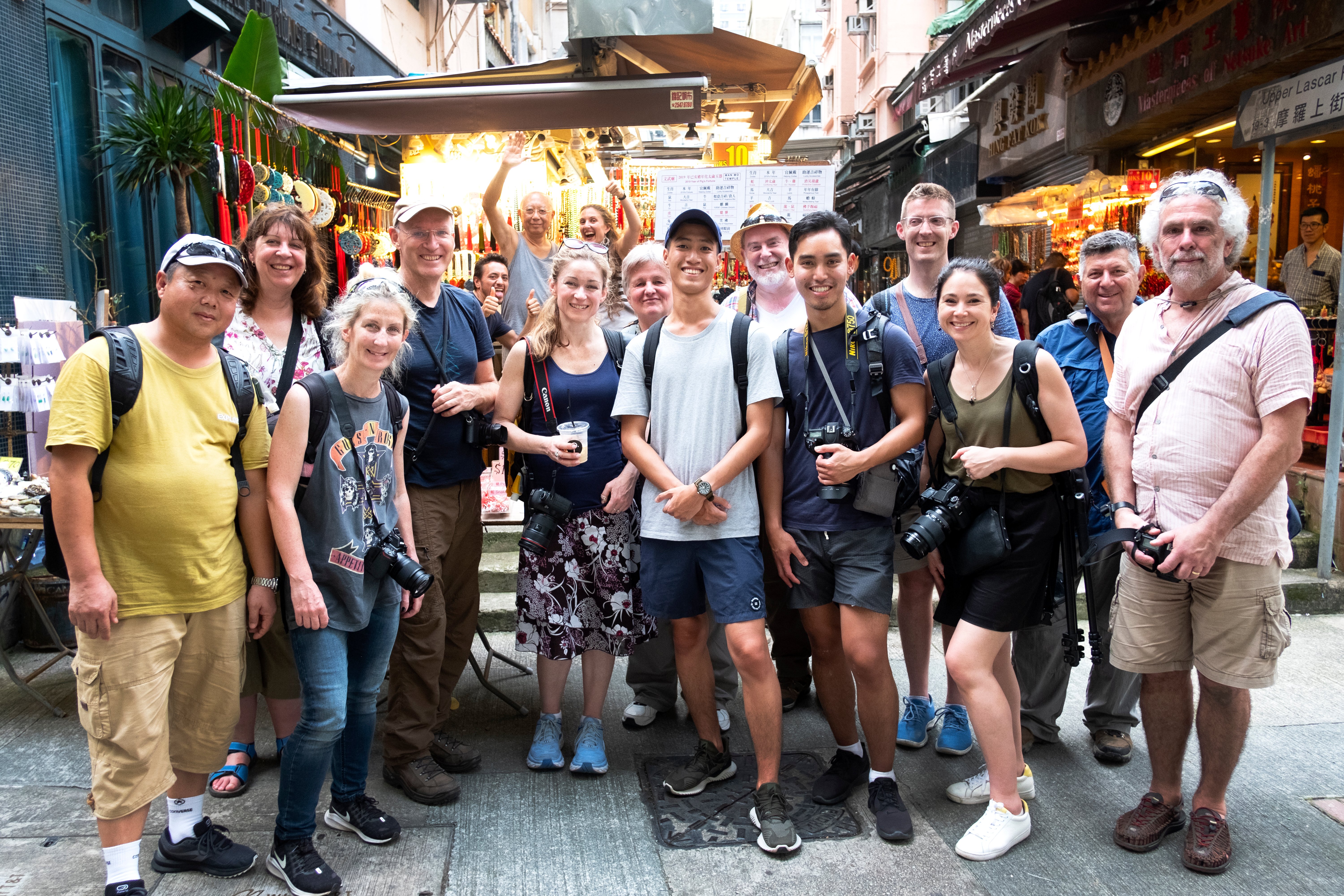 Photo by Michael Coyne of Bruno with the tour group.

Come to a free part time information session to explore your options to get 2020 off to a great start.! Master your camera, expand your hobby, or change your career.⁠ PLUS you could win a fabulous door prize worth $350.⁠

Dates of info sessions are⁠: Friday 8 November 1-2.30pm⁠, Monday 11 November 6-7.30pm⁠
⁠
For more information call (03) 9682 3191 or email mmontgomery@psc.edu.au⁠
⁠