In this digital age authentic connections are one of the key components to getting jobs and making a name for yourself. Established photographers and brands want to work with people they know, like and trust. This is where Sally Brownbill, founder of 'The Brownbill Effect', comes in. She helps young creatives connect with the industry, and launch their careers.
We caught up with Sally the night before she was to judge Capture Magazine's Australasia's Top Emerging Photographers 2020 Awards. Read about her top tips on how to grow your network, and improve your face-to-face connections, as well as, how she became such an influential figure and her strong bond with PSC's students and graduates.
You really understand photographers and what they need to progress in their careers. How did you get into this business?
After studying to become a commercial photographer I worked as an assistant, then moved into advertising and design, and then I began consulting on a regular basis. I would advise creatives on how to design and present their portfolios, curate exhibitions, and promote themselves and get jobs. I have been involved in the industry for more than 25 years.
Many of PSC's students come to you for career guidance, and join your Assistants Register and Creative Directory. Tell us about your strong relationship with PSC?
My relationship with Photography Studies College spans over 20 years. I sit on their VET Advisory Board, sponsor various events including graduation night, guest lecturer on a regular basis and appear as a panelist on their Open Days. I am an advocate for the college and the creative industry, and liaise between the industry and PSC.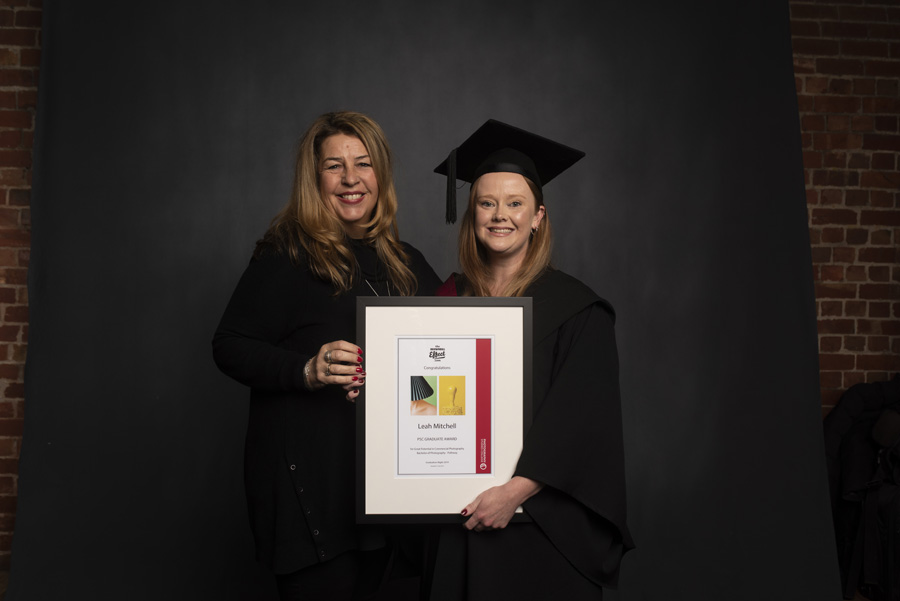 Sally Brownbill (left) with graduate Leah Mitchell who was the recipient of the award sponsored by The Brownbill Effect at last year's PSC graduation ceremony.
This month you have featured two PSC graduates, Mitchell Saba and Rachel Pittard, in The Brownbill Effect Newsletter. Tell us about this?
For many years I have had, and continue to have, PSC students on my register and directory. I mentored Mitchell, Rachel and another student last year, and gave them all the amazing opportunities and resouces The Brownbill Effect has to offer. This included helping them create a career plan, connect with the industry and get work. I also am a regular mentor for PSC's final year Bachelor of Photography students. I love working with PSC's students and graduates.
As a veteran in the creative industry, and with an ever growing network, what advice would you give to students wanting to break into the photography industry?
What you need to do is start your network at university with your cohort and the industry. If people don't know who you are, the phone is not going to ring. I'd advise you to embrace the industry and start to feel comfortable in your own skin. Try to understand who you are and what you can offer. Don't second guess what people want from you.
Image taken from The Brownbill Effect's Assistant Register page which connects assistants to the world of photographers, videographers and producers. Mitchell Saba is one of PSC's recent Bachelor of Photography graduates.
You are an advocate of face-to-face contact when building relationships. What is your top tip to help achieve this?
The basis of everything we do in the creative industry is communication. When you meet people you learn about things you have in common such as owning the same brand of camera, liking the same coffee, and either being a dog or cat person. It's about making friendships. Industry professionals like to work with people that they like and want to be around.
Sign up for Sally's Brownbill Effect Newsletter here. Contact her if you would like to know more about her mentoring, consulting, assistant register and creative directory by following the links below.