Katrin Koenning, artist and former PSC tutor, won the $30,000 Bowness Photography Prize this year. Her work 'Three' is part of a decade long series documenting the regrowth of a forest ravaged by the 2009 Black Saturday bushfires. Katrin talks about her bond with the Victorian Alpine landscape, how she created her award-winning work, and a key ingredient in making images that resonate on a deeper emotional level.

Katrin Koenning's Bowness Photography Prize winning work 'Three'.
Tell us about your winning prints 'Three' from your series Lake Mountain (2018)?
Australia counts among the countries most vulnerable to climate change. Increasingly extreme weather conditions are impacting destructively on environment and community. During the 2009 Black Saturday bushfires significant damage was caused at Lake Mountain, changing it forever. Continuing my engagement with ecological imaginaries, this triptych is part of a decade-long, site-specific work with a forest re-growing from injury, a mountain who owns my heart, and climate change. Lake Mountain is a work of love and return, in dialogue with a wounded living world. It is a work about Earth in trauma – fighting, pleading we change our violent ways.
How did you go about photographing these images?
I made these photographs with my Mamiya 7II, as with most of my work, on Portra film. I made three frames; the ones that are the winning work, one after the other, one winter afternoon in 2018. But yes, in a way you could say I've been working on these for almost a decade. I've also made a number of triptychs with the mountain over the years. The printing of the work was done with Peter Hatzipavlis [master printer at The PrintShop at PSC], as always, and his long hours of labour and love he poured into printing these emanate for the object-work.
Katrin accepting her Bowness Photography Prize at the Monash Gallery of Art.
Why did you choose to submit these prints this year?
If you look closely at the photographs, best in their final form (the framed prints), you will see that there are subtle repetitions that occur, and the compositions are so that they create ruptures or fractures between the frames. With this, the work speaks to a tearing and a coming together in new or altered ways; time, injury, survival.
How do you feel about your win?
It is an indescribable feeling and marks a truly moving moment to say the least. If one of the roles of the artist is to engage critically with the times in which they live, winning the Bowness enables me to continue doing so.
Katrin looking at her award-wninning prints with Peter Hatzipavlis, master printer at The PrintShop at PSC.
You were a teacher at Photography Studies College, what did you enjoy about this role?
I love teaching in particular when students are passionate, engaged and hard-working. These are the most important things – all the other stuff is secondary and will develop out of these three things.
One of your former students from PSC, Zia Atahi was a finalist in the Bowness Prize this year – how did you feel seeing him at the awards exhibiting his work?
Well that was a huge moment and I am so happy for him.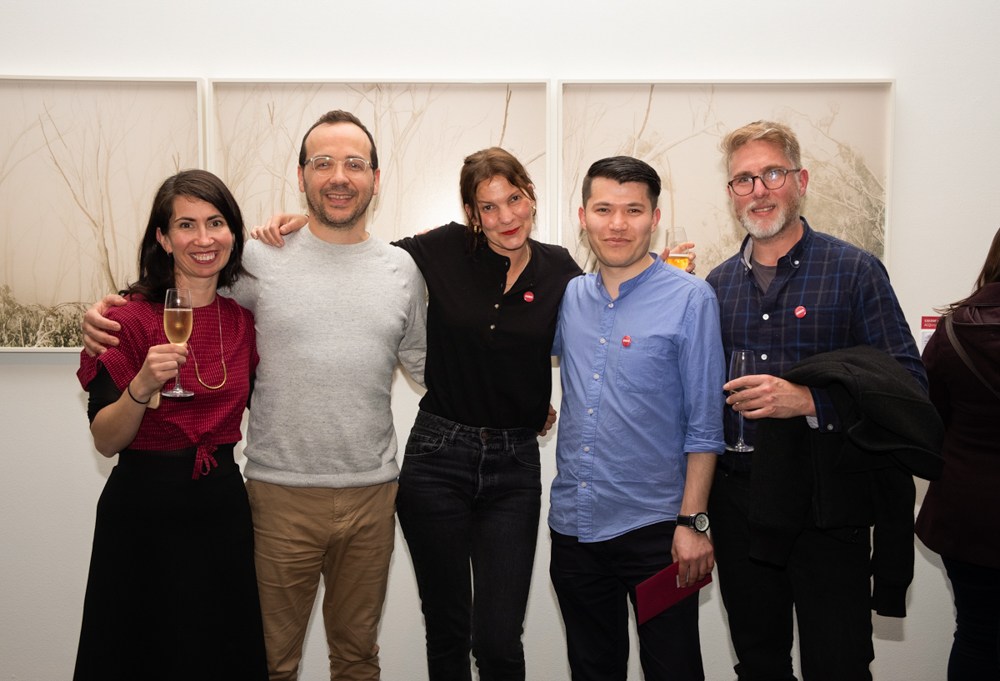 Katrin in front of her prize winning work at the MGA with PSC's graduate Zia Atahi, and PSC's tutors Dr. David Rosetzky and Clare Rae, who were all finalists at this year's Bowness Photography Prize., and PSC's Higher Education Course Director Daniel Boetker-Smith.
What is your advice to our readers wanting to enter the Bowness Photography Prize?
I think the one thing that matters most is to listen to your gut, and to be true to yourself and your photographs. You can't really work around what people want to see or what a judge may like or dislike, all this is completely arbitrary and awards as we know are always subjective. You also have to be burning for something. Truly. Doesn't even have to be something grand necessarily – it can be your grandmother's cactus collection. But what matters is that you burn for it. From that burning, good work will come.
Now that you have won this award what are you planning to do next?
Winning the award for now is not really changing my schedule which is pretty full. I'm off to Myanmar and Cambodia in a couple of weeks teaching with Myanmar Deitta and Angkor Photo Festival – and also opening a solo show of my work. Then in December and January, I will be working on something up North in Queensland, and also headed back to Kolkata (India) to continue my mini-ecology work there. After that, I will spend some months in Berlin next year – and many more exciting things!
See Katrin's award-winning work at the William and Winifred Bowness Photography Prize Exhibition, held at the Monash Gallery of Art. It runs till 5 November.
Katrin also has a solo show called 'the kids are in trouble', at the Reading Room in Melbourne. It runs till 16 November.