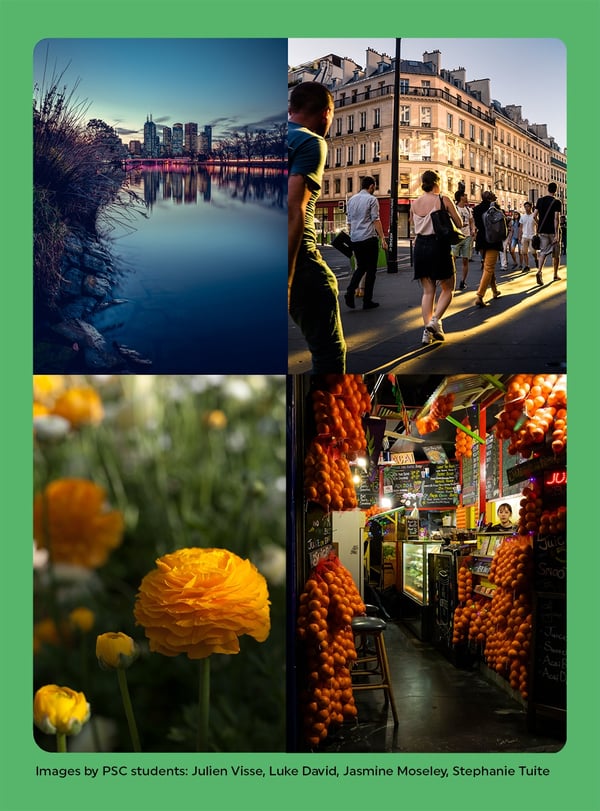 Spring is in the air and that means sunshine, blue skies and fun activities and now is the perfect time to get organised for 2019. If you have always been interested in photography (whether as a hobby or potential career change) but not sure where to start, join us at our upcoming
Info Session at PSC and get all of your questions answered.
So what's in it for you?.....
* Plenty of clever tips to improve your photography
* View our current student exhibition
* Find the right Part Time course for you at our Award Winning College.
* Meet staff and students, and check out the facilities
* Get all of your questions answered
* Early bird specials!
* A take home goody bag
* Refreshments provided
* PLUS the chance to WIN a very special door prize valued at over $100!
October 30 6-7.30pm or November 9 1-2.30pm
Our popular part time day or evening courses are enjoyed by people of all ages, backgrounds and skill levels.
So many of our part time students win awards for their photographs, have them published in magazines and included in important exhibitions. Who knows? That could be you too!
The only pre-requisite is a love of photography! The courses are perfectly designed for people who work, have families or other commitments. You will develop and improve your skills in ways you never thought possible! You will be amazed at how much your photography improves, and be able to take advantage of your newly updated skills whenever you use your camera. Don't miss this great event. Places limited.
Follow the link below to join us at our Part Time Course Info Session or call 9682 3191 for more information.
You will be inspired, informed and entertained.