Last Friday PSC's Advanced Diploma Art Major students (aka Fresh 19) hosted an auction featuring some of Melbourne's prominent photographers including Rone, John Gollings and Samantha Everton. Held at the college's pop up gallery in Southbank, the event raised money for their upcoming end of year exhibition. Susan Brunialti, one of the student organisers, tells us how much they raised, which print got the highest bid and how they exceed their fundraising target.
Photo of Fresh 19 students
You had some big names in Melbourne's photography industry donate work, how did you get them on board?
Over the years at PSC, we've made contacts by volunteering at The Australian Professional Photography Awards (APPA) and Victorian Professional Awards (VPPYs) where we had the opportunity to meet artists. Also we asked our industry connected mentors to donate work. This included PSC's tutors David Rosetzky and Scott McNaughton, and graduate Cyndi Briggs.
How did it feel to get support from Australia's photography industry?
The first week we had no responses from artists. One of the turning points for us, was when John Gollings agreed to donate a rare 1966 print of Mick Jagger in Melbourne. When this happened, we really felt our goal was achievable.
Framed image by Rone sold for $950
How much did you raise?
We raised over $10,000 which exceeded our target.
Which print sold for the highest amount?
Rone's framed and signed, hotly contested print sold for $950, with John Gollings limited edition print selling for $750.
Auction night at PSC's pop up gallery in Southbank
Your team is studying the part-time Advanced Diploma at Photography Studies College, tell us about some your group's work, which sold alongside big names in the photography industry?
Agata Mayes was the 2018 Victorian Australian Institute of Professional Photography (AIPP) emerging photographer of the year, and one of her images that achieved a gold with distinction sold for $500 at the auction. I (Susan Brunialti) was 2019 Victorian AIPP finalist in the Student Category, and achieved a Gold Award at the APPAs for my image also auctioned on the night. Other students such as Sally Thomas, Neen Magro, Alex Rogers and Denise Lawry also received silver awards for their work.
So your industry connections also helped you gain media exposure too right?
Yes, we had built on relationships with photography publications via being featured over time. We are extremely grateful to Capture Magazine, Australian Photography magazine and Southbank News.
Image by PSC's student Agata Mayes sold for $500
How long did it take to put this auction together?
It was five weeks of concentrated effort to bring this event to life. Some night's a few of us would get less than 6 hours sleep – so it wasn't easy! On a regular basis we met up at one of our student's homes to constantly keep things on track. Part of the success was that a number of us had experience in the corporate world.
How did you start this project?
We started with submitting a proposal to PSC's leadership team for approval of our fundraising idea and part of that included using the college's Southbank pop up gallery space.
(From left to right) PSC's Art Major Convenor Sarina Lirosi, PSC's Future Students Co-ordinator Steph Doran, PSC student Denise Lawry, and PSC's Managing Director Julie Moss.
Tell us about the support you got from your teachers at PSC?
Sarina Lirosi, our art major teacher, offered guidance and the experience from previous years' auctions and work. Other teachers including Neil Stanyer, Mark Harper, Vicki Bell and Jessica Ledwich all donated original work for which we are extremely grateful. Our peers and graduates from the college also kindly donated their prints.
How important was getting the support of your family and friends?
We couldn't have done it without the unconditional support of family and friends. Some of us have young school age children, on top of managing college assignments and paid employment, so having an understanding and supportive family was essential.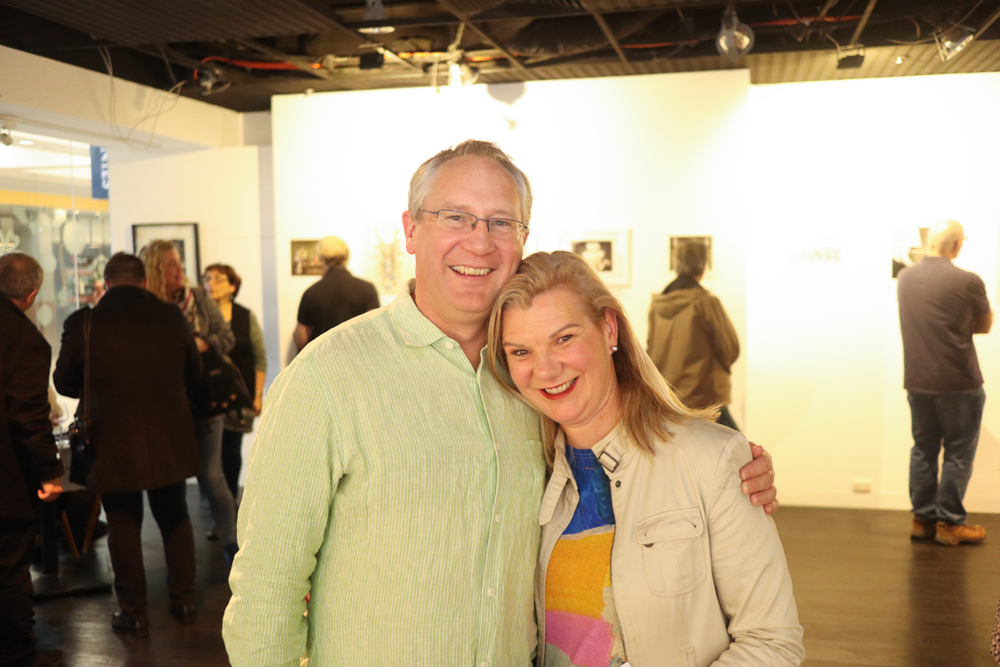 Susan Brunialiti with her husband David Sykes
The Fresh 19 art major graduates will open their end of year exhibition on 22 November at the Yarra Sculpture Gallery.
Follow Fresh 19: