PSC's first year Bachelor of Photography students Caitlin Pridmore and Nelly Farmiloe attended last Friday's Global Climate Strike. They were among the 100,000 protesters attending the Melbourne climate change rally. The young activist duo tell us about their experience at the protest, and why photography is an important tool for self-expression.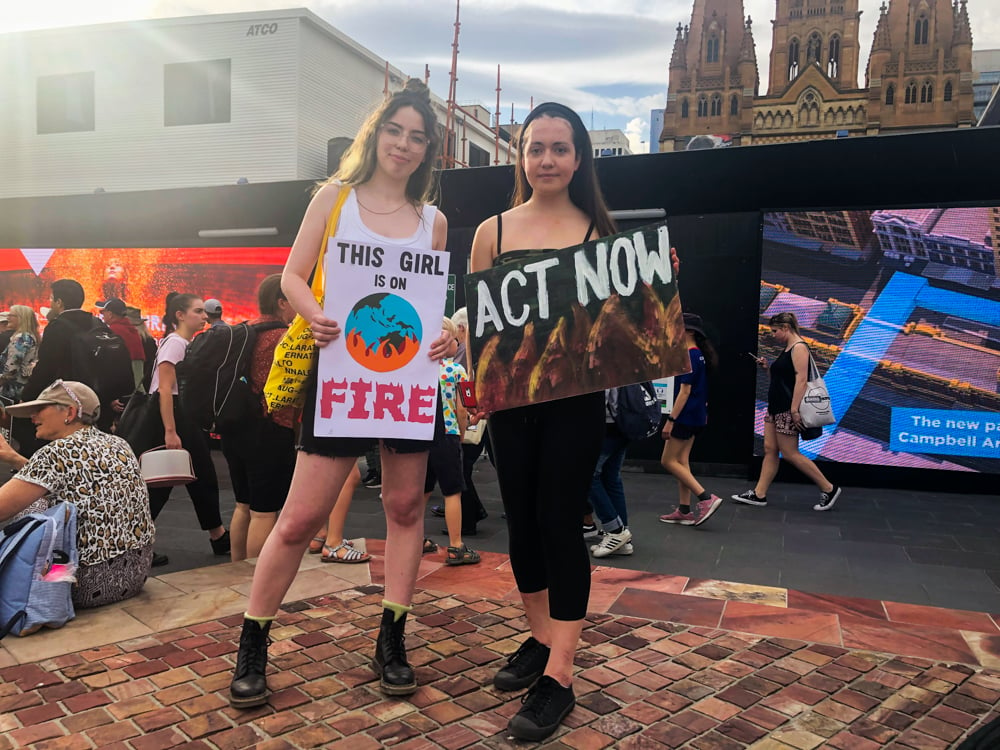 Caitie (left) and Nelly (right) hold their handmade signs at Friday's rally.
Why was it important for you to join the world global climate change strike?
Caitie: It was important for me to join the strike because the current climate crisis depends on mass participation to make real progress. If we want those in power to enact change, we have to use our voices for a planet that depends on it.
How did you first hear about it?
Caitie: I heard about the climate strike on the School Strike 4 Climate Facebook page and I immediately knew it was something that I wanted to be apart of.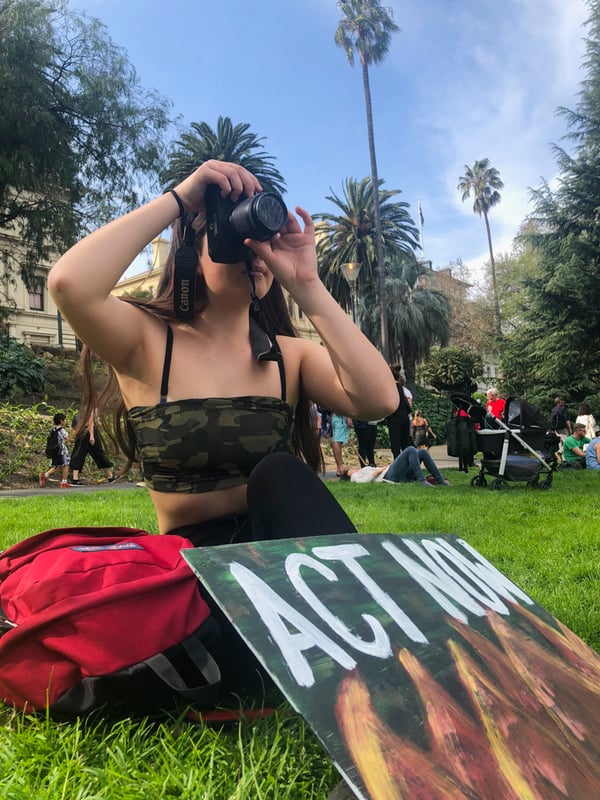 Photo of Nelly with her camera taken by Caitie.
Why did you decide to go together?
Nelly: Caitie and I have become quite good friends now, and were both talking about the strike, and just decided to go together! The massive volumes of protestors at these rallies can be pretty overwhelming, so it was definitely pretty comforting for both of us to be with someone we knew.
Do you feel like you are finding a community of like-minded students while studying the Bachelor of Photography program?
Caitie: I absolutely feel like I'm developing a great community at Photography Studies College and the like-mindedness of all the other students makes it easy to make friends and connections.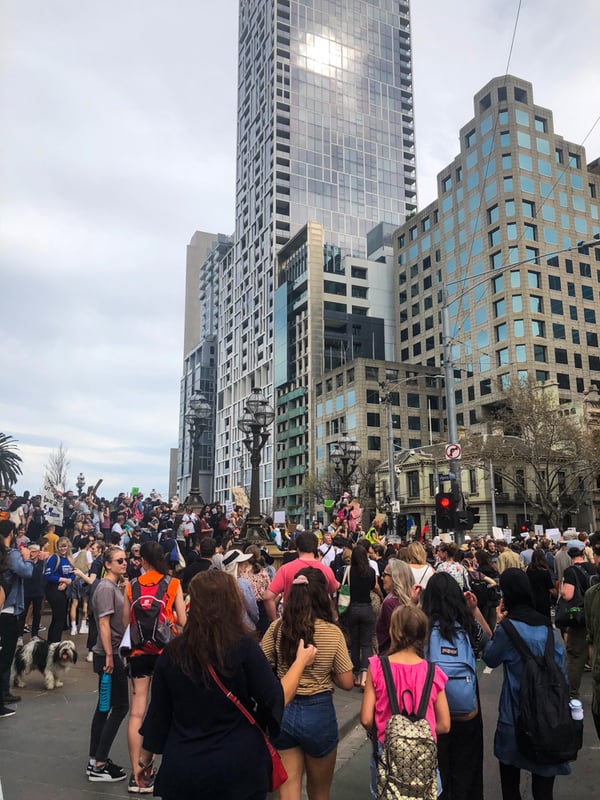 Photo of the Melbourne rally by Caitie.
What was the feeling like at the climate change march?
Caitie: The feeling of being at the climate strike was really empowering and uplifting in the sense that it inspires hope for change, not only now but for the future. Witnessing such a diverse range of people from all demographics uniting for the greater good was especially motivating and reassuring to see the future leaders of the world starting to enact change.
Do you think our government is doing enough?
Caitie: No, I believe that there are plenty of strides that need to be made in not only maintaining the current state of our environment but bettering our planet for future generations. I believe the Government needs to urgently reconsider our energy resources, primarily coal, and elect more funding into renewable alternatives. Essentially, if there wasn't change to be made, people wouldn't be striking. But when approximately over 100,000 people in Melbourne gather to strike, that's when you know there is a legitimate cause for concern.
Photo of Caitie at Federation Square taken by Nelly.
Do you use photography to highlight issues you believe in?
Caitie: I believe photography is a really important tool in highlighting social and political issues as it gives you the opportunity to not only document humanity's effort in preserving the environment but to represent these issues in a creative format. I personally use photography to comment on social and political issues and will continue to in the future.
Is documentary photography a genre you are interested in?

Nelly: I'm definitely interested in documentary photography, and am very keen to explore documentary and photojournalism further at PSC, and hopefully pursue these lines of photography as a career once I graduate.
Photo by Nelly of an Extinction Rebellion rally taken in late May.
Has studying photography helped give you more confidence in yourself?
Nelly: PSC has definitely given me more confidence in myself, and has really helped me grow in terms of my technical skills and my overall mindset towards photography. Being able to study solely photography oriented subjects has been incredibly fulfilling, I've loved learning here and developing my abilities through this course, and I'm really looking forward to being able to grow even further in the future.
Are you enjoying your studies so far?
Caitie: It's so exciting to be at PSC because I am constantly surrounded by people who genuinely love what they do and enjoy teaching. Being in an environment where your efforts are constantly encouraged and improved by those around you is so inspiring and motivating.
Caitlin Pridmore
Nelly Farmiloe
IG: @nellyfarmiloe