This is the first of a blog series sharing published work by PSC's second year Bachelor of Photography students. Over lockdown in Melbourne, the class were introduced to new technology by teacher Stephanie Wood, allowing them to photograph subjects anywhere in the world from home.
Stephanie's class were given a brief to interview and photograph subjects, which students had to respond to as working journalists in the real world.
We kick-off the feature with PSC student Clytie Meredith's assignment titled 'Digital Dance' about Melbourne ballet dancer Lelu Ball.
Digital Dance: Lelu Ball Keeps on Dancing Despite the Pandemic – Clytie Meredith
Lelu's tap dance lessons are held in the kitchen, the only room in the house with a hard floor
The arts sector has been amongst the hardest hit by government shutdowns due to the Covid-19 pandemic. Many young artists and performers who have put years of training into honing a very specific skillset now face an uncertain future in their specialist field. While zoom lessons have become the norm for many young people across the globe during the pandemic, online learning poses a different set of challenges for a small group of students at the Victorian College of the Arts Secondary School (VCASS). After successfully auditioning for a highly coveted place at VCASS Lelu Ball started 2020 full of hope and excitement for what the year would hold, however within weeks at her new school, government restrictions meant Lelu was unable to attend classes on campus, and she was forced to begin both academic and specialist dance classes online.
Lelu En Pointe
"I've been dancing for eight years now. I was 5 when I started. I grew up hearing about VCASS (The Victorian College of the Arts Secondary School). Some of my family knew about it and they all said it's so amazing. My ballet teachers and people I know from dance would always say how great it was. I was really nervous when it was time to audition, but I thought it'd be great to go there because you can really focus on dance, and you get to do dance lessons during the school day instead of after school." Prior to starting at VCASS, Lelu attended long ballet classes five evenings a week. With her ballet school a two-hour round trip from home, days were long. Attending a specialist dance school meant classes would be held during school hours, providing Lelu precious downtime in the evenings.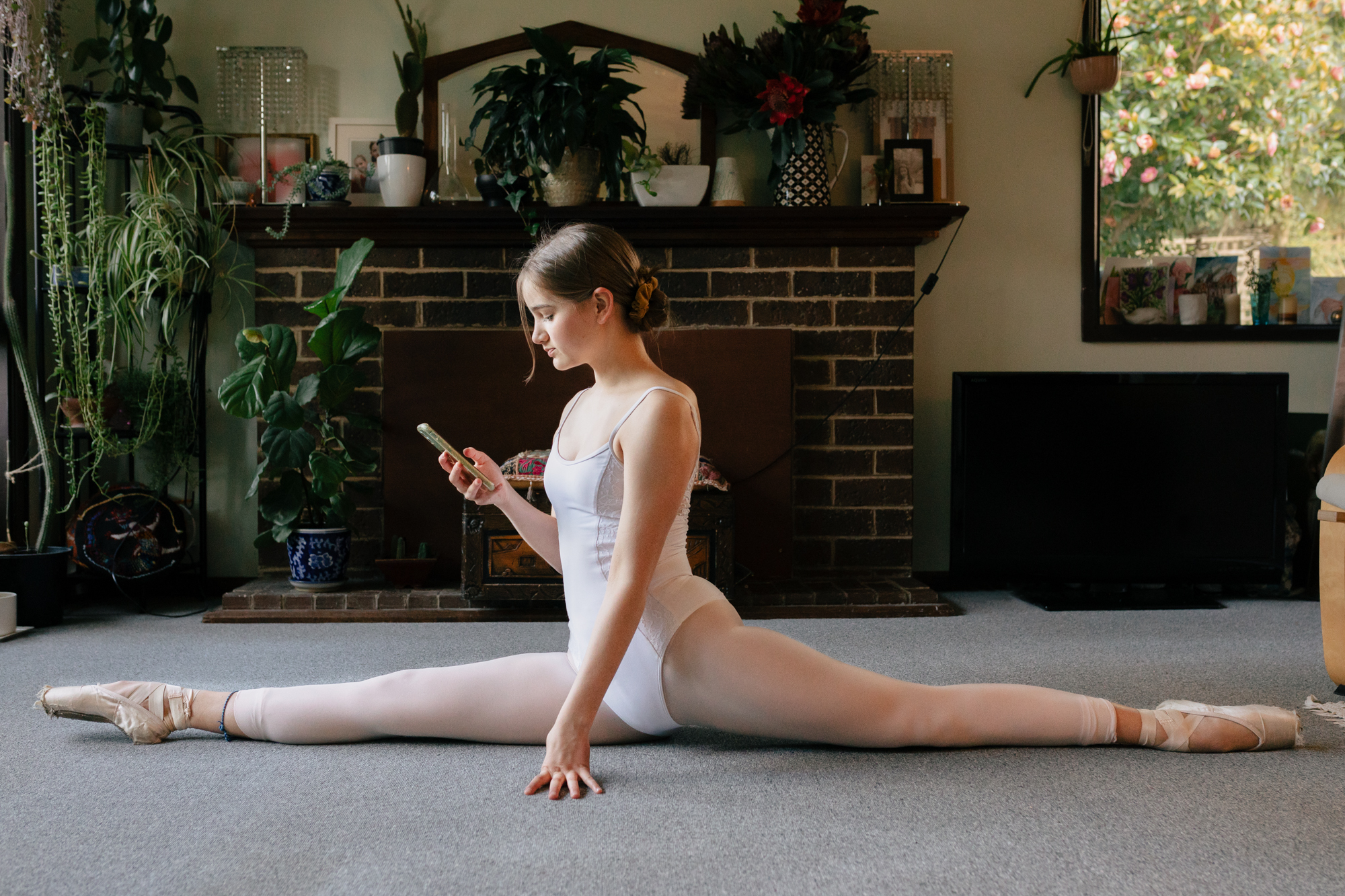 Lelu stretching and scrolling before class
Lelu's family nervously awaited an acceptance letter, and finally receiving confirmation was cause for much celebration. "When I got the (acceptance) letter I was so excited. My mum had just picked me up from school and she told me. We went to my auntie's house and celebrated, it was really fun, I was so, so happy!" When Lelu began the school year she had no idea of the challenges ahead as a result of the pandemic. "When I started at VCASS I had heard of Coronavirus, but I didn't think much about it. I live in the Dandenong Ranges so we (mum and I) were getting up at 5:15 am to catch the train, the trip takes a couple of hours. After school, I had rehearsals for the mid-term concert, so I'd finish at 5, meet Mum and catch the train home. We'd get back around 7 pm. I was just getting used to high school by the end of the first term, so I was pretty upset when I found out we would be doing online learning and I wouldn't be going back in second term."
Lelu attends long days of academic and specialist dance classes online due to the pandemic
"Online learning has been really hard. I feel like it's taken away most of my motivation and some of my skill, and that's not even half of it. It's really hard because you're dancing in your tiny living room and you have your family walking past all the time. You don't get that feeling you get when you're really enjoying dance and you're in the studio with ballerinas walking past…all the things that make dancing so great, the atmosphere in the studio when you're working hard, the music and the proper Tarkett flooring." Taking lessons from home without the spacious studios and professional equipment available at VCASS has been difficult. "When you're at school you can just be in the moment and really enjoy the experience and focus on dancing. The teachers are there to watch you properly and correct you, and there's no internet connection problems and no mum walking past with the washing."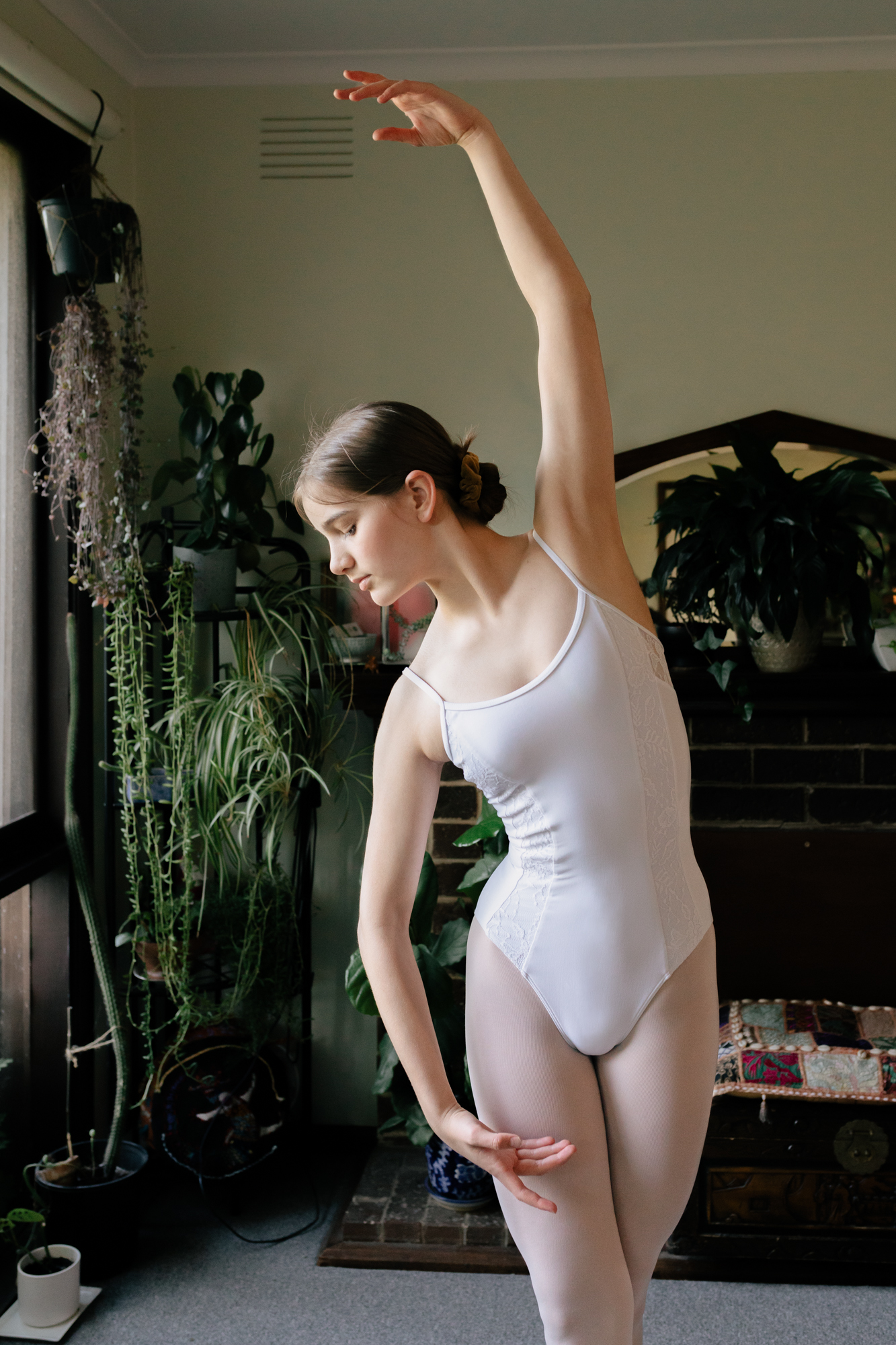 Dancer Lelu Ball, 12, has spent most of her first year of high school attending specialist dance classes from home during Melbourne's extended lockdown
But learning from home isn't without positives. "We start each day at 8:30am. Now instead of a long train trip, I can just roll out of bed and grab a leotard." Monday mornings start with academic lessons first followed by half a day of dance classes. "We alternate each day between academic and dance in the mornings. I learn different styles of dance, at the moment I'm doing ballet, tap, kinetics, contemporary, world dance and fitness. Last term we weren't doing tap because the teachers thought it would be too hard to do remotely and everyone thought online learning was going to be temporary, but because the lockdown has gone on for so long, we've ended up starting it this term." Lelu has had to think creatively in order to modify her home to fit her varying dance needs. "The only place at my house that isn't carpeted is the kitchen, so that's where I do tap class. The kitchen is really small and everyone's bustling in and out doing things like making food and trying to get things out of the fridge, and the internet connection is really bad so it's definitely challenging me."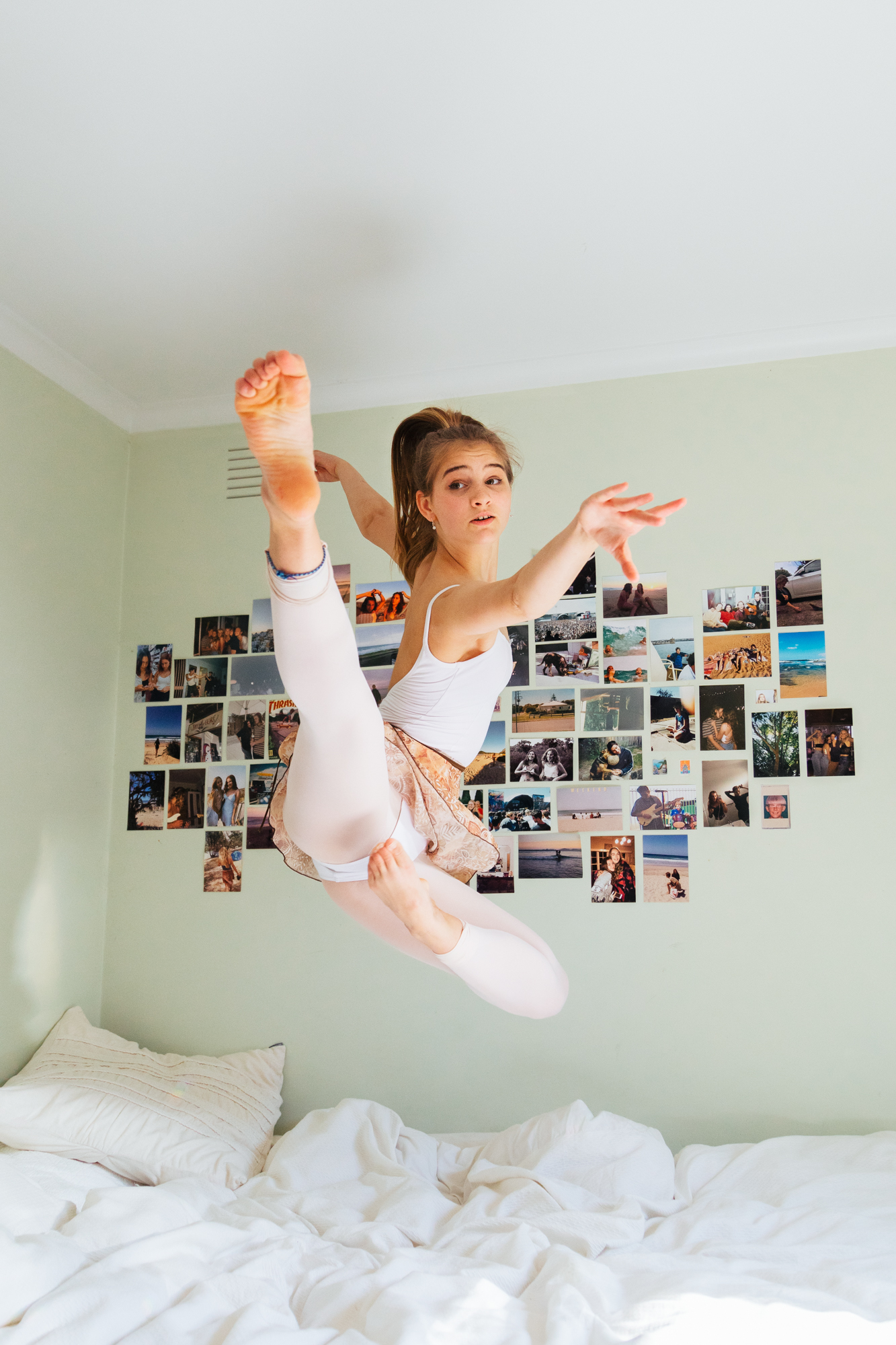 Another unique aspect of the school day is the uniform requirements. Unlike other students learning remotely, Lelu's day involves multiple outfit changes. "At school, I have to wear a particular outfit for each dance class, and it's the same online. The teachers prefer you to wear the correct thing, so I have to change for each class. We wear a different coloured leotard and whatever else is required for that class, like ballet or tap shoes or heels for world dance."
Like many students her age, Lelu has found the transition from primary school challenging. "Academically, school is so different this year, we learn such difficult things that I had no idea how to do before I came to VCASS, but then that's really good because I've learned so much more already this year than any other year. The whole experience of coronavirus lockdown and doing all these new things has taught me so much…the teachers have been really supportive. I reckon I've talked to them a lot more than I would have if I was at school, so in some ways it's been better getting to know the teachers in a way I probably wouldn't have if I was at school."
Lelu also feels supported by her dance instructors who help guide her in her classes and provide care for any physical issues or injuries which are common amongst dancers. "The dance teachers set specific exercises for you and give you guidance. If you need to talk about anything, they give you extra time, but it's not the same as being in class, the teachers aren't there in person which can be hard."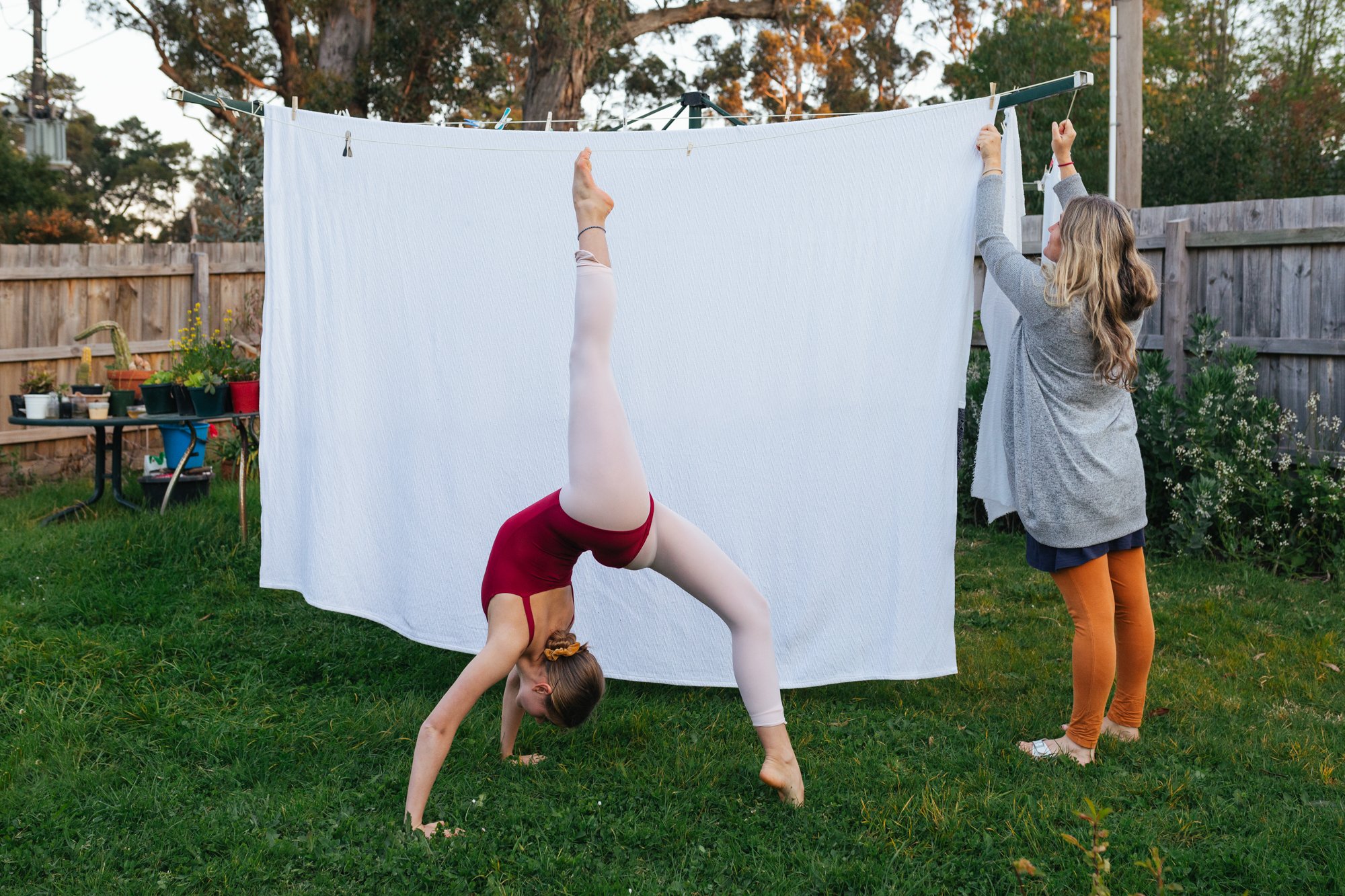 Lelu's mother Naomi has been a huge support during the lockdown, "she helps keep me motivated" says Lelu.
Along with running a household in lockdown, Lelu's mother Naomi has provided much needed emotional support and endless encouragement. "I feel like without Mum this year would have been heaps harder. I probably couldn't have even done it if it wasn't for her, because she helps so much. When I'm struggling with academic work, she helps keep me motivated. She helps get things ready and makes sure I've got everything I need."
Creating and maintaining connections with fellow students has been difficult during the lockdown, the unique nature of the school means that unlike a regular high school, students travel from all over Melbourne and country Victoria to attend classes. "Starting high school was really exciting, but I didn't have a chance to get to know people well before lockdown so that's been hard. We're all connected with social media, but everyone comes from different parts of Melbourne, and with lockdown it's been quite hard to make friends."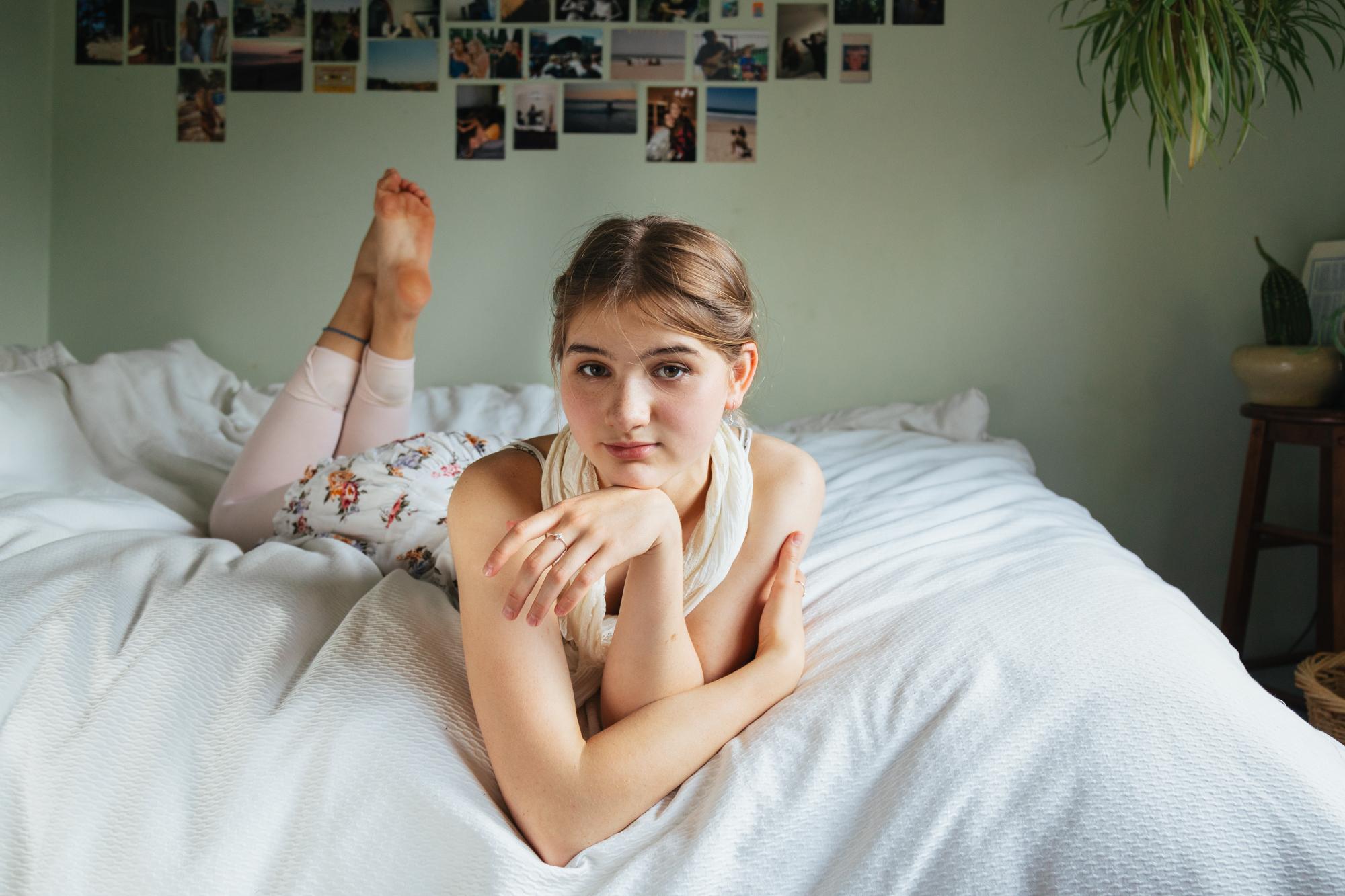 Lelu looks forward to school resuming on campus
"Eventually I'd love to have a career in dance or musical theatre, I love to sing as well as dance. Maybe I'll do something else? I don't know. I just know I love performing, it doesn't matter what I'm doing, I just love performing and giving something to an audience."
Follow Clytie on Instagram @clytiemeredith