'Photography and Cross-Cultural Influence' is an exhibition of prints and photobooks by PSC, held at the Consulate General of Japan in Melbourne. The exhibit showcases the work of PSC's first Japanese scholarship exchange student Masatoshi Kobayashi. He is also the recipient of The City of Melbourne's 'Mayor's Award' at the 'Faces of Melbourne/Faces of Osaka' student photography exhibition last year.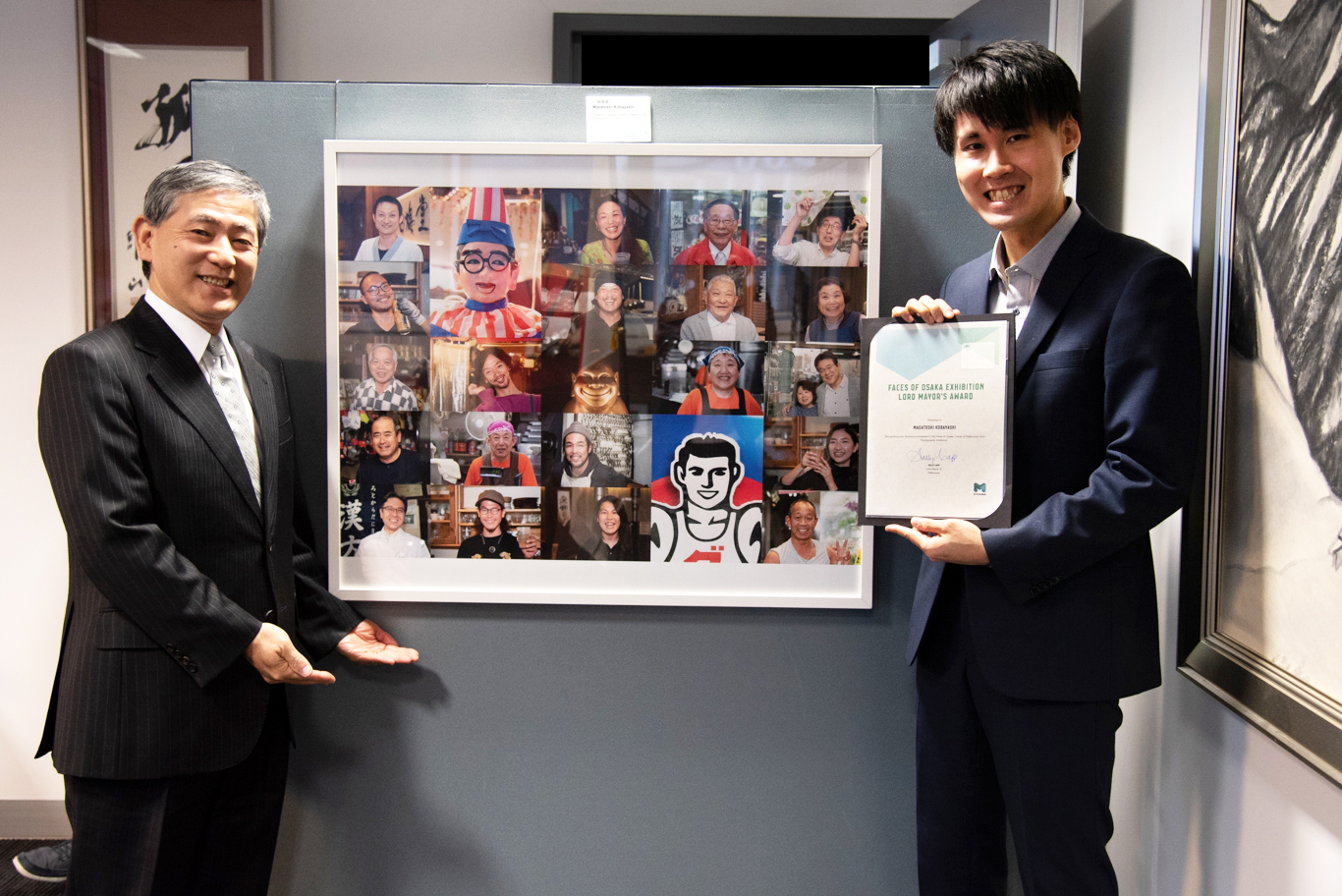 Consul-General Matsunaga (left) with PSC's student Masatoshi Kobayashi.
What work are you exhibiting at 'Photography and Cross Cultural Influence' at the Consulate-General of Japan in Melbourne?

I'm exhibiting three photos, which document Italian restaurant 'Da Noi'. Last semester, I photographed international restaurants in Melbourne to communicate the multicultural characteristics of this city. 'Da Noi' is the one I have built the closest relationship with, so I decided to continue documenting their business and culture.

What do you like the most about Melbourne?
I am a foreigner here but have never felt excluded. Having seen all the international restaurants: Italian, Lebanese, Chinese, Thai, ETC., alongside each other on the same street – makes me feel like I'm also a part of the community. People are so welcoming and tolerant.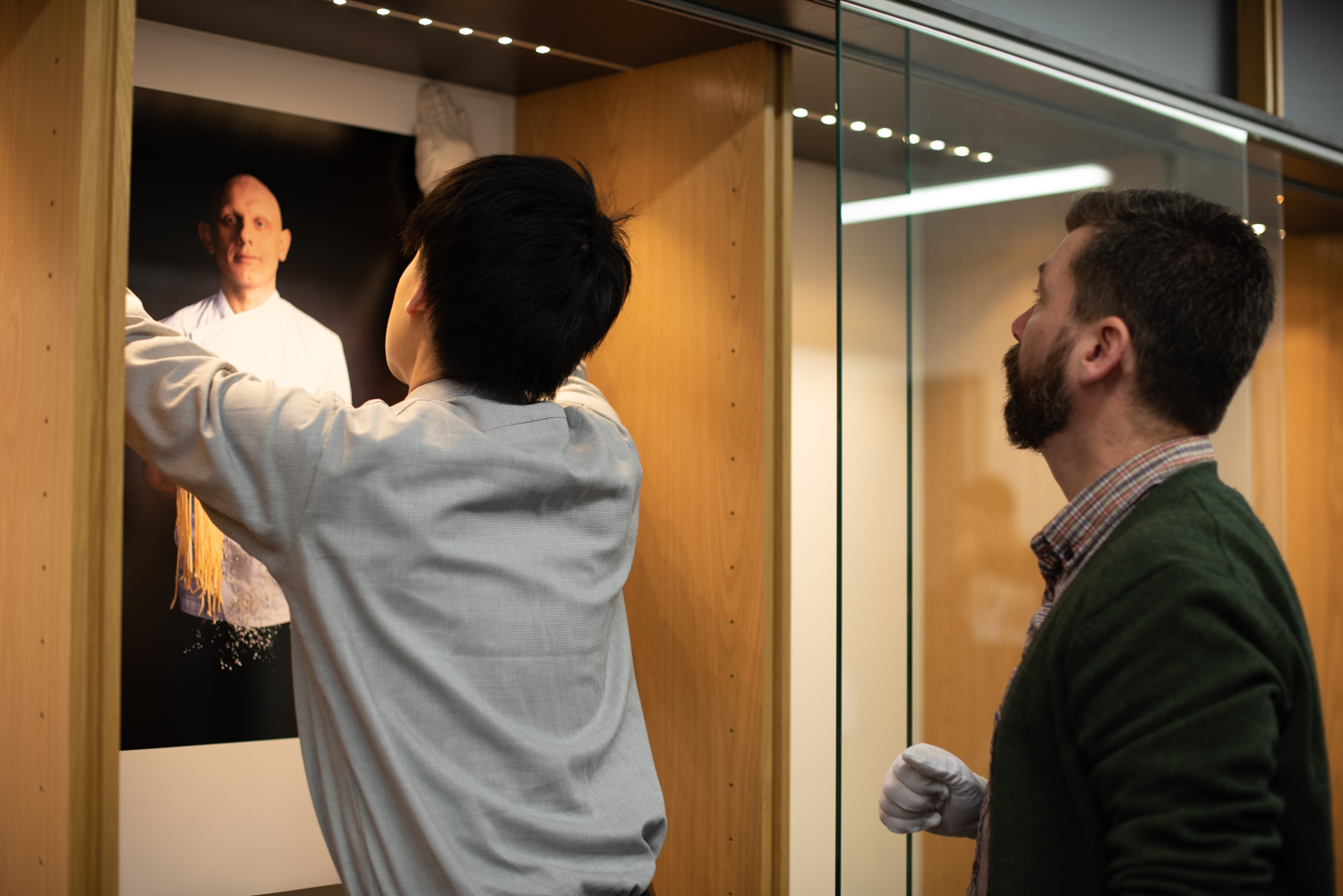 Masatoshi (left) installing his work with PSC's tutor Dr. Kristian Häggblom at the Consulate-General of Japan in Melbourne.
What are you studying a Photography Studies College?

I'm in my third year of the Bachelor of Photography course, doing a Commercial Major. Currently, I'm really enjoying getting to work with professional commercial photographers and learning about the industry from them.

Tell us about your experience here at PSC?
I'm discovering new perspectives such as different styles of lighting, storytelling, and virtual reality (VR) – not just photography. Outside of class, I really enjoy attending PSC's Image Makers Seminar Series, where famous photographers from around the world talk about their work. I also enjoy participating in student photo exhibitions, and attending shows by our tutors.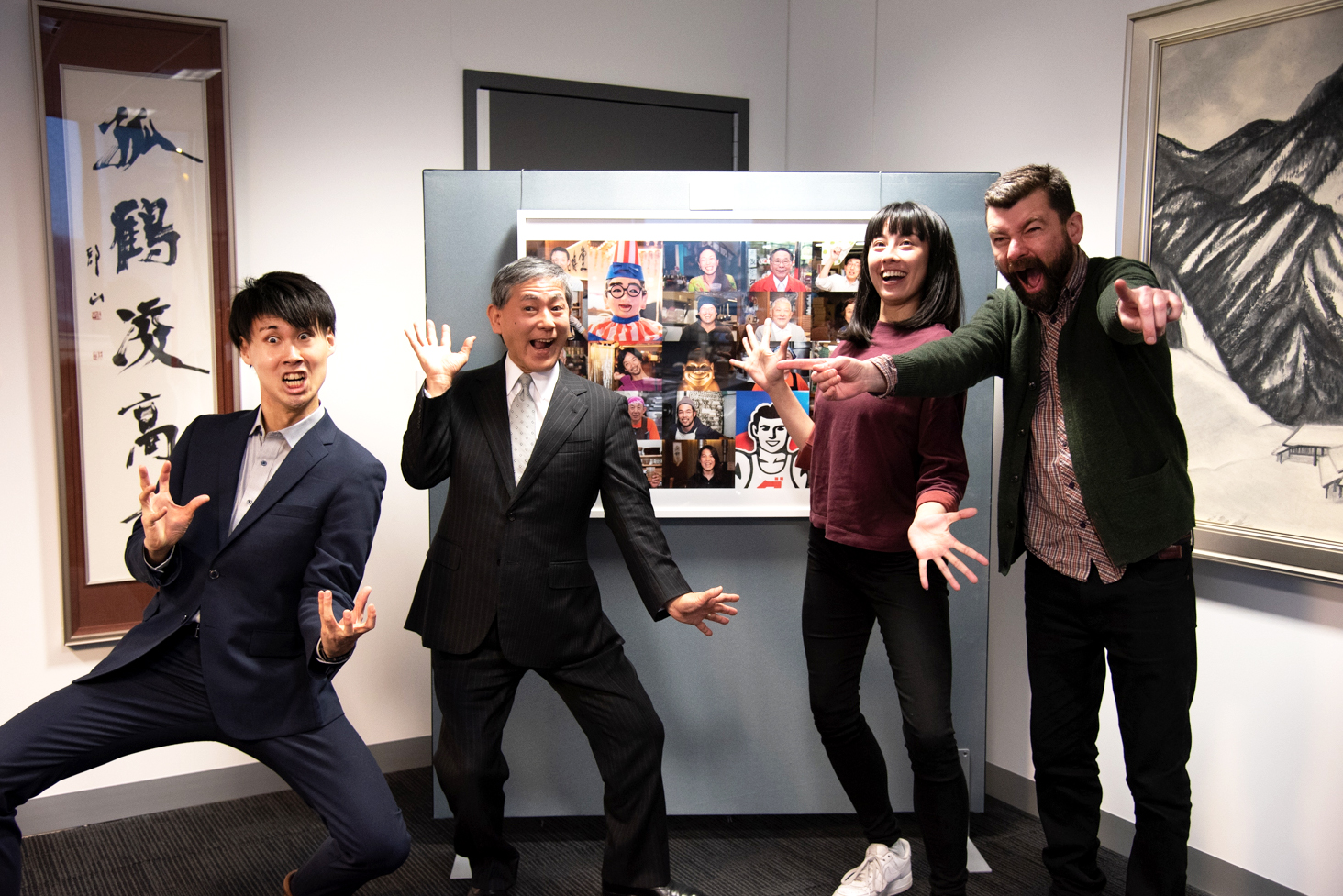 From left to right: Masatoshi Kobayashi, Consul-General Matsunag, PSC graduate Sally Kaack who has her photobook on display for the exhibition also, and Dr. Kristian Häggblom at the Consulate-General of Japan in Melbourne.
PSC has built a strong relationship with the Japan Institute of Photography and Film (SHASEN) in Osaka, where you were studying before you came here. Tell us about this college?
SHASEN is located in Osaka, Japan. The course I was taking there, was specifically designed for those who want to work at commercial photo studios and do on-location photography such as weddings.

PSC and Shasen held a photo exhibition together in Melbourne and Osaka called 'Faces of Melbourne/Faces of Osaka'. It was to celebrate the 40th anniversary of the alliance of these two sister cities. Tell us about your involvement in this?
The SHASEN exhibition took place at the Osaka City Council in September last year. I was then awarded the City of Melbourne's 'Lord Mayor's Award' for my work from the 'Faces of Osaka' exhibition.

Masatoshi Kobayashi exploring Melbourne's art scene.
How did you feel when PSC offered you a scholarship to study in Melbourne?
I was really excited about the thought of being able to learn something new in a new environment. I was a little worried about starting the Bachelor of Photography in third year without knowing anybody, but everyone has been so caring and helpful.

Can you tell us something unusual, strange or insightful that you have discovered while studying in Melbourne?
Here at PSC, having to show the process of research and a visual diary is one of the huge differences, I suppose. At Shasen the final images are what really matters and we did not necessarily have to show the process of it. And another thing would be the very "chill" atmosphere of students and tutors here. Tutors don't really mind students finishing their lunch in the middle of class as long as they are listening! Also, I see a high percentage of coffee addicts among creative people here in Melbourne. That's for sure.
Masatoshi Kobayashi with Charlotte Vignau from the PrintShop at PSC.
What are your plans for when you graduate?
Since my family business is a commercial photo studio, I will eventually work with them. What I have been learning will definitely benefit my future career. I also I love visiting new places, so I want to travel the world before taking over the family business.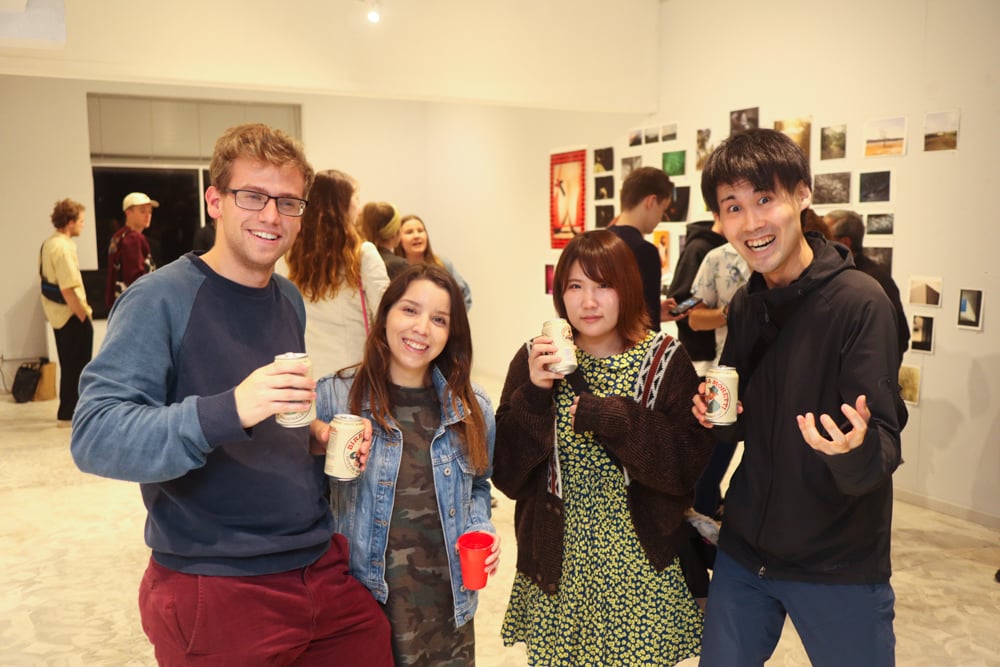 Masatoshi Kobayashi with two of his peers from PSC, and a friend, at a Melbourne gallery where they sold their prints.
Photography and Cross-Cultural Influence features the work of PSC student Masatoshi, as well as, two photobooks by PSC graduates Sally Kaack and Sam Forsyth-Gray. It runs till 29 November at the Consulate-General of Japan in Melbourne.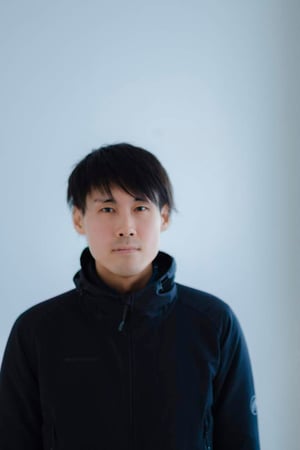 https://masatoshikobayashi.com
Photo by Arata Kakizaki