PSC's Wellness Walks led by our Librarian, Wellness and Student Support, Jill Bartholomeusz appears to have had a lasting impact on our students, and the wider City of Melbourne community. These little excursions cover local photography and art galleries, civic centres, libraries, national parks and gardens, and markets.
Last week, one of our new Bachelor of Photography (mid-year intake) students, Jecerey Miranda, was so inspired by PSC's Wellness Walk to the South Melbourne Market, that he started an online journal and website documenting his experience.
Jill (front left) with PSC's students on a Wellness Walk in South Melbourne
"I've been to the main part of the city my whole life but was missing this gem, luckily we have a Jill, our head librarian who lives local, and knows all the awesome spots to check out! Without Jill I would never had known that this place existed, it makes me think how many places in Melbourne I have not visited?" – Jecerey wrote in his online journal about his South Melbourne Market Wellness Walk visit.
Read Jecerey's journal here.
PSC's student Jecerey Miranda (left) with his Bachelor of Photography cohort at South Melbourne Market.
PSC's Wellness program is available to all students and staff, and includes: one-on-one consultations with Jill who can book students in for a bulk-billed consultation with Dr. Fox and his team at Southgate Medical, lockdown support groups to combat isolation, wellness seminars by psychologists just for PSC students – and #PSCCommunity activities organised by, the College's student peer-to-peer support group.
Representing PSC, Jill also recently took a group of Librarians from the Melbourne City Library, Spydus (an online library catalogue network), OCLC (a global library cooperative) and Athenaeum Library on a Wellness Walk around the Flash Forward Festival.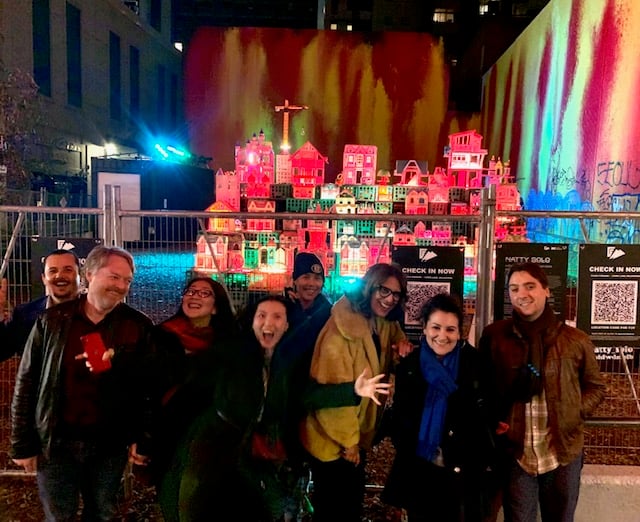 PSC's Jill Bartholomeusz (right of centre in yellow fluffy coat) with her Librarians group
Sponsored by the City of Melbourne, the festival is part of a Victorian Government initiative to revitalise 40 of Melbourne's historic laneways. Jill, who has her finger on the pulse of what's on, took her librarian peers to installations across Chinatown, White Hart Lane and Corrs Lane.