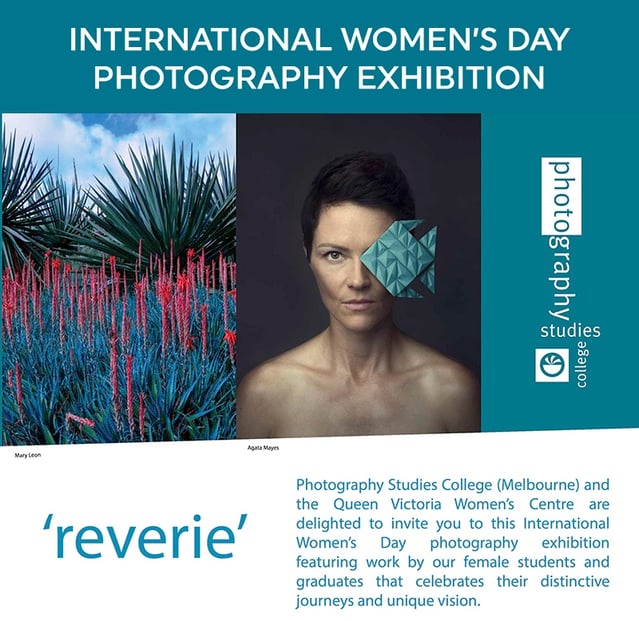 Photography Studies College celebrates International Women's Day, 8 March with a Photography Exhibition titled 'reverie' featuring work by female students and graduates. For the 6th year in a row the Queen Victoria Women's Centre has invited PSC to exhibit in the foyer of their building, ground floor 210 Queen street Melbourne.This year marks the 107th INTERNATIONAL WOMEN'S DAY.
The official opening night is 8 March 2018, 6-8 and the exhibition continues until 28 March, 8.30am – 6.30pm.
The exhibition has been perfectly curated by our talented specialist Teachers Sarina Lirosi (art major) and Julie Wajs (commercial major). The exhibition expresses the unique and sensitive styles of each student: Mary Leon, Agata Mayes, Alysha Jakobi, Charlotte Vignau, Hannah Nikkelson, Sally Kaack, Ana Burenkova, Elli Bardas, Allison Rose, Cuc Chong and Kayla De Saint Aromain.
International Women's Day is dedicated to celebrating women and their achievements on all fronts of life, culture, economy, education and politics.
It is also a time to reflect and consider ways we can make the world a fairer and more equal place.
Here are some interesting facts about this event.
International Women's Day has been celebrated for over a century. It was first named "National Women's Day "and observed on 28 February 1909 in New York. The date was changed a year later to 8 March.
IWD was born out of 15,000 angry voices and frustrated women that marched the streets of New York City demanding voting rights, better pay and shorter hours. It was not until 1911 that IWD was officially recognised and commemorated as the movement for women's rights.
The theme colour for IWD is purple signifying justice, power, ambition and dignity.
The 2018 Campaign theme is #PressforProgress - Progress forward and progress gender parity.
IWD is a public holiday in some countries such as Afganistan, Angola, Cambodia, Vietnam, Ukraine and many more. In China only women get the day off!
'reverie' is a captivating exhibition not to be missed. We hope you can take some time to visit the exhibition as it continues through March.