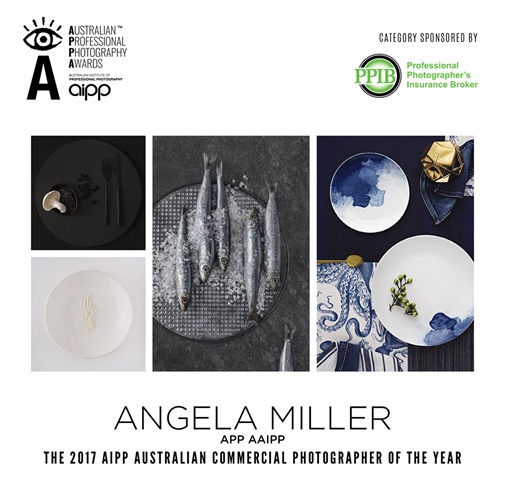 On the night of the APPA awards, PSC Lecturer Julie Wajs and her former PSC student Angela Miller APP AAIPP, chatted about how she felt winning the '2017 Commercial Photographer of the Year.'
Tell me about the feeling you had when you saw your prints (that won you the '2017 Commercial Photographer of the Year') come off the printer. How did you feel?
In my commercial work so much time goes into working with the client - discussing the brief, pre-production, the studio shoot and the final edit. So seeing the final images being printed is like seeing a final culmination of all that work (and long hours) in one image! When it's all exactly like you imagined, it's a brilliantly satisfying feeling for both myself and the client.
All my work is printed at Capture to Print by Rocco Ancora, (where I also assist as a digital retoucher when I'm not working on my own business Indigo Blue Studio). Printing is a total science… colour, calibration, print profiles, paper choices, it all plays a part. At Capture to Print, paper choice is determined by the images at hand. What you see on the screen, Rocco replicates exactly on paper and some.
What does winning this award mean for you?
This is the first year I've entered the Commercial Category so the award means the world to me. It is such an incredible feeling being recognised by my industry peers! It means I've been doing something right - being myself, doing my thing and shooting for amazing clients. I've been determined this year to shoot true to my style of photography and not try and be something I'm not. (If the brief doesn't feel like it suits my style I'm not inclined to go through with the job anymore.)
Admittedly, it's nice to be at a stage in my photography where I'm beginning to know quickly what I do and don't want to be doing! This award also proves to me that you never stop learning. I think every shoot I've done I can take something from it, good or bad and learn from it no matter how big or small the work is.
Would you like to add something else?
I'm still kind of speechless, I'm so glad you are here to help me celebrate.
You've played a huge role in my development, forever grateful.