Whilst doing his Master of Arts - Photography, Sam Forsyth-Gray discovered he has an inherent drive to collect, classify and condense images for his projects. This revelation lead him to create a fictional archival world using stills but presented in a 3D moving format. He talks about the relationship between photography and archival science, which he explores in his video exhibition New Archivalia currently at MARS Gallery.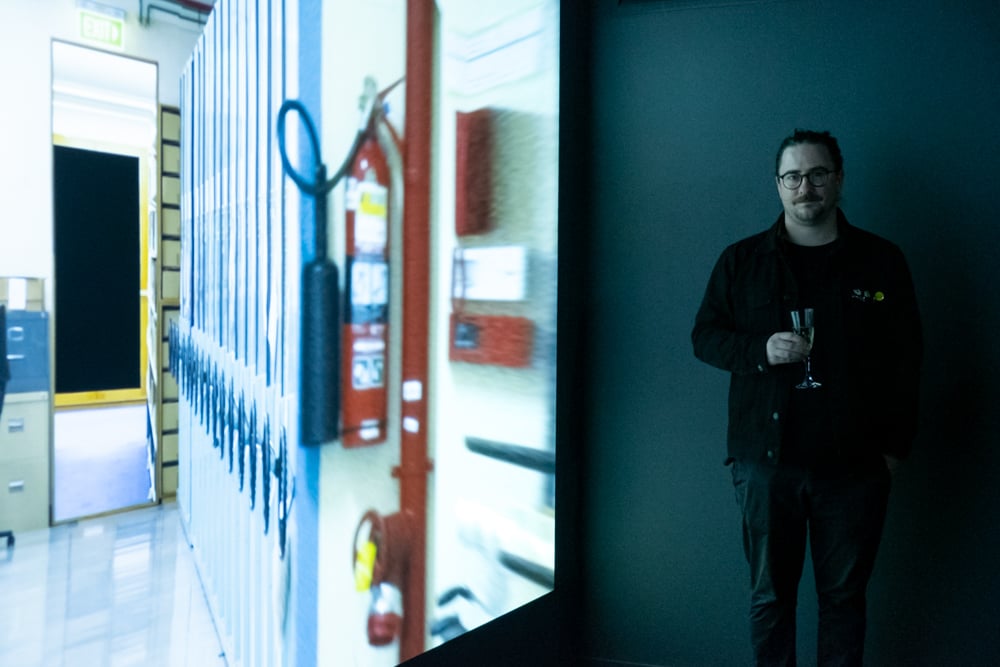 Image of Sam by Sally Zhang at the opening of 'New Archivalia'.
Tell us about your latest video exhibition 'New Archivalia', and the larger masters project is part of?
The video explores the idea of the archive as an evolving and changing space; and attempts to create a visual representation of this dynamic nature. The work is made up entirely of still images transformed and manipulated in 3D space to create a new and entirely fictional, singular archive space. It seeks to investigate contemporary notions of the archive, and its iterations both physical and digital. The larger project that encompasses this video work explores the unique connection between photography and the archive, and the dynamics of the photograph's role as either passive archived material or as an active and agential means of preserving, cataloguing, and documenting.
How did you come up with the idea to present the archive as an evolving changing space?
This body of work is inspired by the project I did for my final year of the Bachelor of Photography course at Photography Studies College, which was heavily focused on archival photographs and how collections of vernacular images can be used in photographic practice. The year that I spent looking at, responding to, and recontextualising those types of images really inspired me to look further at archival practice as a whole and to undertake this more in depth research project in the Master of Arts - Photography course.
Video excerpt from 'New Archivalia' by Sam Forsyth-Gray.
How is this project deeply personal to you?
When considering my own photographic practice in relation to the archive I'm immediately confronted by the obvious drive to collect, classify, and condense images within each of my projects. I've always been a collector of things throughout my life so I think it's just a natural progression that this interest in archival ways of working carries through into my work.

What journey are you taking the audience on with this project?
I want to get the audience thinking about the important relationship between photography and archival science, and to consider how closely linked the two are. The video hopefully creates a piece that gets viewers to sit and really consider this link and also to think about how tied we are to different types of image archiving through things like social media, algorithms, and the global push towards facial recognition software.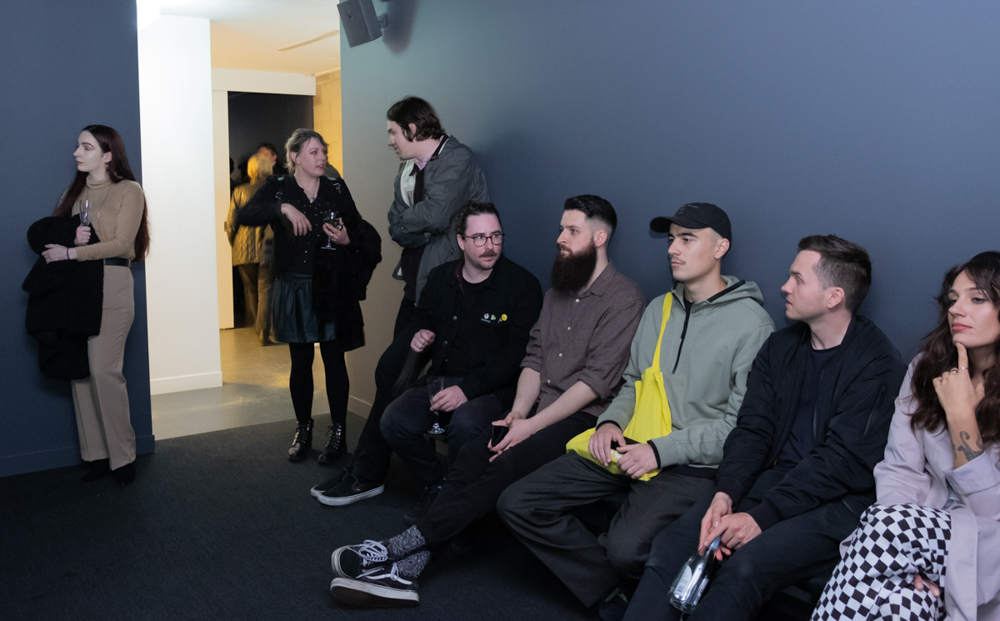 The seated audience watching the big screen at the opening of 'New Archivalia' by Sally Zhang.

How long did it take you to create this, and what kind of research was involved?
The video work was an extremely slow process to get to the final piece, conceptually I had been experimenting with the idea very early on but it's really been a couple of months working on the video to get it to where it is now. The research for this project has been a great journey, doing this project has allowed me to visit a lot of really interesting archives and travel interstate. As well as doing the embedded research I've been doing extensive theoretical research into topics surrounding the archive, from classic texts through to current papers written on new media technologies.

Why did you feel video was the best way to represent your ideas?
I think video is an important tool for artists as a way to engage with audiences in a different way than with still photography. I think for this piece it adds a greater level of immersion for the viewer and offers a different way to connect with the work than the photobook or printed works.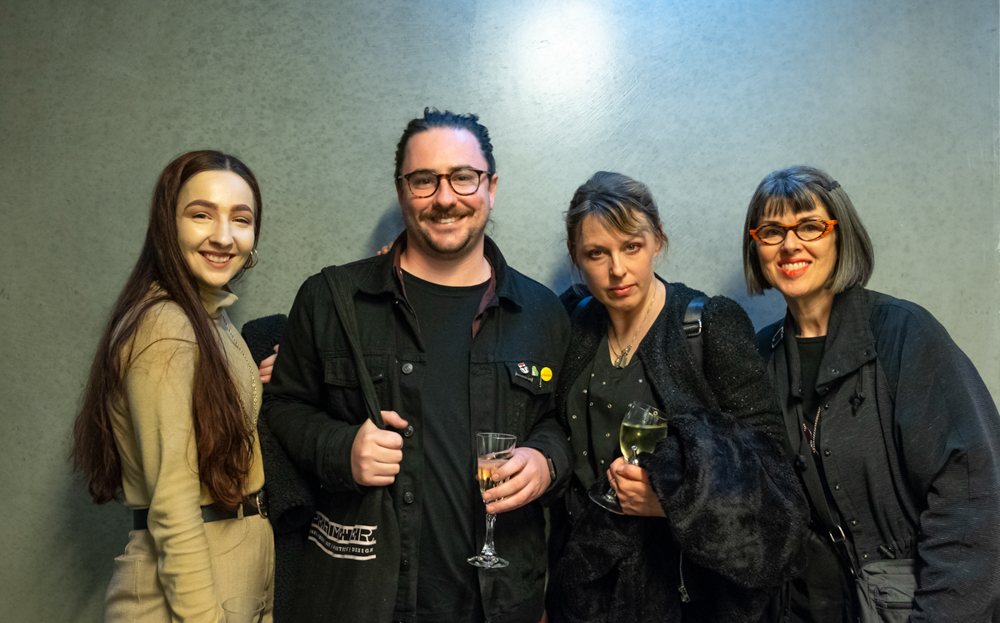 Sam with PSC's tutor and MARS Gallery curator Brie Trennery (on his right), and PSC students by Sally Zhang.
Tell us about your photobook?
With the photobook I'm making for this project I've been using small pieces of creative writing which are my own thoughts and questions encountered during the course of the theoretical and embedded research for this project. They aim to act as starting points for the audience to further consider the link between photographic and archival practice, and the relationships between the power held by established institutions, compared to the democratic nature of emerging spaces such as web based archives and social platforms.
Why did you decide to do your masters at PSC?
I'd completed the bachelor degree there a year before deciding to start the masters, and ultimately ended up choosing PSC because I knew first hand how passionate everyone there is about photography and photography education, so I knew it would be one of the best MA courses I could do.
Still from 'New Archivalia' by Sam Forsyth-Gray.

What are you enjoying the most about doing your masters at PSC?
I think the small class sizes have been incredible, it means that we are all very involved in each others projects and the conversations that arise from that are really valuable. This carries through to the groups above and below me, we all know each others work intimately and it allows us to share any research or artists that we find that may be beneficial to each others projects. The industry links that PSC have are also a huge part of what makes this MA course great, not just with the mentor program but also the guest speakers that are constantly coming in to not only talk about their work but also give feedback to our projects.

Tell us about your mentor in the masters program?
My mentor so far has been Louis Porter and it's been a fantastic relationship that I think will carry on outside of the MA program. Louis is a wealth of knowledge both theoretical and technical from his years of industry experience as an artist, educator, and publisher. As Louis is currently living in London our conversations have been conducted over Skype and then follow up emails, I also used an online diary as part of the MA course which meant that Louis could keep track of my progress more easily.