PSC's Bachelor of Photography graduate Elizabeth Bysouth completed a commercial major, and work from her final folio is being showcased in our Summer Exhibition. Colourful and fluid, her photos, reflect Melbourne's current streetwear fashion trends.
Elizabeth talks about putting together this series, why she needed a degree to pursue a career in doing what she loves, and starting a new job straight out of college!
Image by Elizabeth Bysouth
Tell us about your images currently being showcased at Photography Studies College's Summer Exhibition?
The images are from my final folio focusing on streetwear fashion, narrating portraits by pairing subjects to their own choice of styling and finding appropriate locations to accommodate the look. I'm inspired by global streetwear brands, fashion magazines and urban locations around Victoria. I enjoy using colour as it helps to create a fun, youthful and cohesive series.
How did you come up with this concept?
When I was in high school I really enjoyed my fashion class making me consider pursuing a career in it. However, I stuck with photography and even though I had never done fashion photography until my last year, I felt content putting the two together. I decided to create my own work with this style as I was inspired by a lot of clothing brands and fashion magazines that I had seen online.
Image by Elizabeth Bysouth
Where did you shoot?
I shot in various locations around Victoria, including, Richmond, Clayton, and Docklands. I picked these locations as I had seen some of them on my commute to the city, and felt as though they best represented the models that I planned to work with and their own style.
Tell us about your footballer model and how you found him?
The male in the two images in the Summer Exhibition at PSC, Jordan, is a professional freestyler footballer, who has traveled the world competing. I was intrigued by his recycled fashion style and reached out through a mutual friend. Adding the element of his freestyling made the work a lot stronger.
Image by Elizabeth Bysouth
Why did you decide to study photography?
I discovered my passion for photography early on and knew that it was something that I would want to continue in the future. I knew the first step into making it a career was to learn more and get a degree.
You are also part of a community dance troupe, which went to Sri Lanka earlier this year, tell us about this?
Yes, I'm in a dance team called Eleven88 who got the opportunity to go to Sri Lanka in June and July to teach dance and run self-worth workshops. We traveled to six different regions and ran eight workshops. The kids we met were aged from 6 to 19. Unfortunately, Sri Lanka was affected very badly by the Easter bombings, not long before we went. This concerned a lot of the members, so only myself and the founder of Eleven88 continued to go. It was important that we could put smiles on the kids' faces after such a tragedy. The purpose of teaching self-worth is to inspire the kids to be the best that they can be and to encourage them that they are valued and have a purpose.
Image by Elizabeth Bysouth
What have you enjoyed about studying the Bachelor of Photography?
It has been very helpful with learning the ins and outs of how to get yourself out there in the industry. You start to discover what you really enjoy shooting, and are always surrounded by like-minded people, which is very encouraging.
Would you recommend PSC?
I would definitely recommend PSC to anyone who wants to pursue a career in photography or that wants to learn and better their skills. I liked that it's only centred around photography and videography, as this made the environment so motivating, as you are constantly around people who enjoy the same things you do.
Image by Elizabeth Bysouth
How do you feel about being a graduate, what are your plans?
It's awesome to look back at how much my practice has developed over the three years of studying. In January 2020, I will be fulfilling the role of a Communications Officer with my dance team. This will consist of Advertising, Events, Social Media, Photography, Website Management and Newsletters.
I also plan on continuing to shoot portraits for clothing brands, and hopefully have my work recognised in magazines.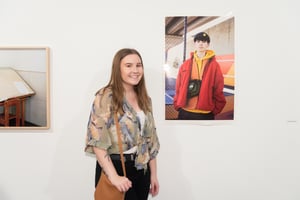 elizabethbysouthphotography.com
FB: Elizabeth Bysouth Photography