PSC's Part-Time Advanced Diploma student Kadri Elcoat's latest photography collection, Postcards from the Edge, explores life during Melbourne's extended lockdown period in 2020.
The collection, which has been selected for Sydney's "Head On" Portrait Photo Festival, sought to break the mould of other work common during lockdown by bringing colour and humour to the images.
"A lot of people sought to portray life in lockdown, but these images were often of empty streets and monochrome colours. I wanted to do the opposite and make images that were as colourful and creative as possible," she said.
By Rachael Fleury of Southbank News.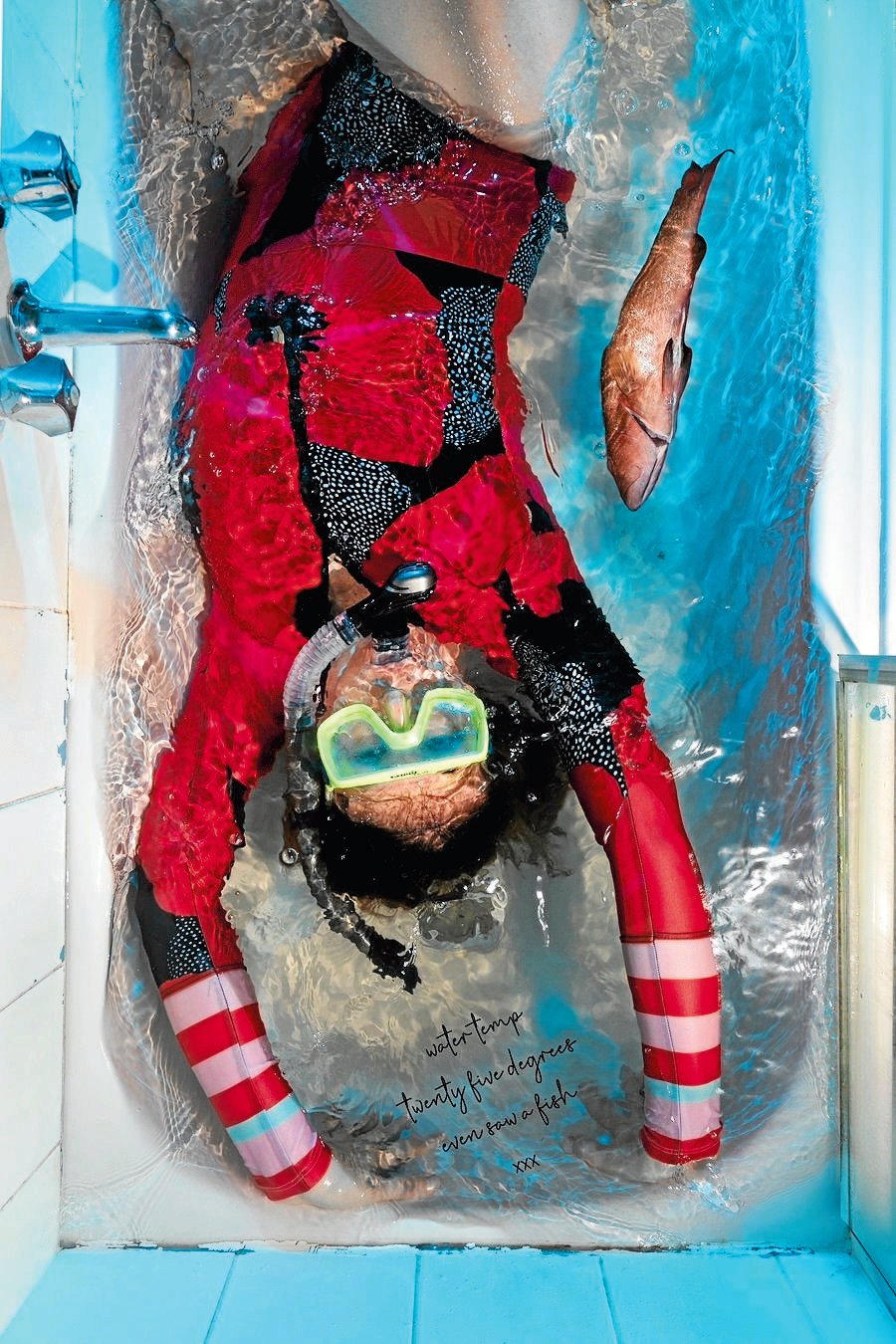 © Kadri Elcoat

All of the photos in this collection are "selfies", taken inside Kadri's South Melbourne home. She was drawn to exploring the tension of people still trying to live their everyday lives while being stuck at home. "This is virtual life taken to the next level," she said. "We might have all been going quietly insane trying to figure out how to live our old lives, but I wanted to bring some humour to the experience."
The series depicts Kadri in various scenes, including; snorkelling in her bath, rock climbing under her stairway and surfing in her backyard. The bath shot, which has become the hero image of her collection, was inspired by her love for travelling and something she would typically do in non-COVID times to escape Melbourne's "hellish" winters.
"For that shot, I bought a coral trout from the South Melbourne Market; I took the photos of me in the bath with it and then roasted it for dinner with coriander and ginger. 'Waste not, want not'," she laughed.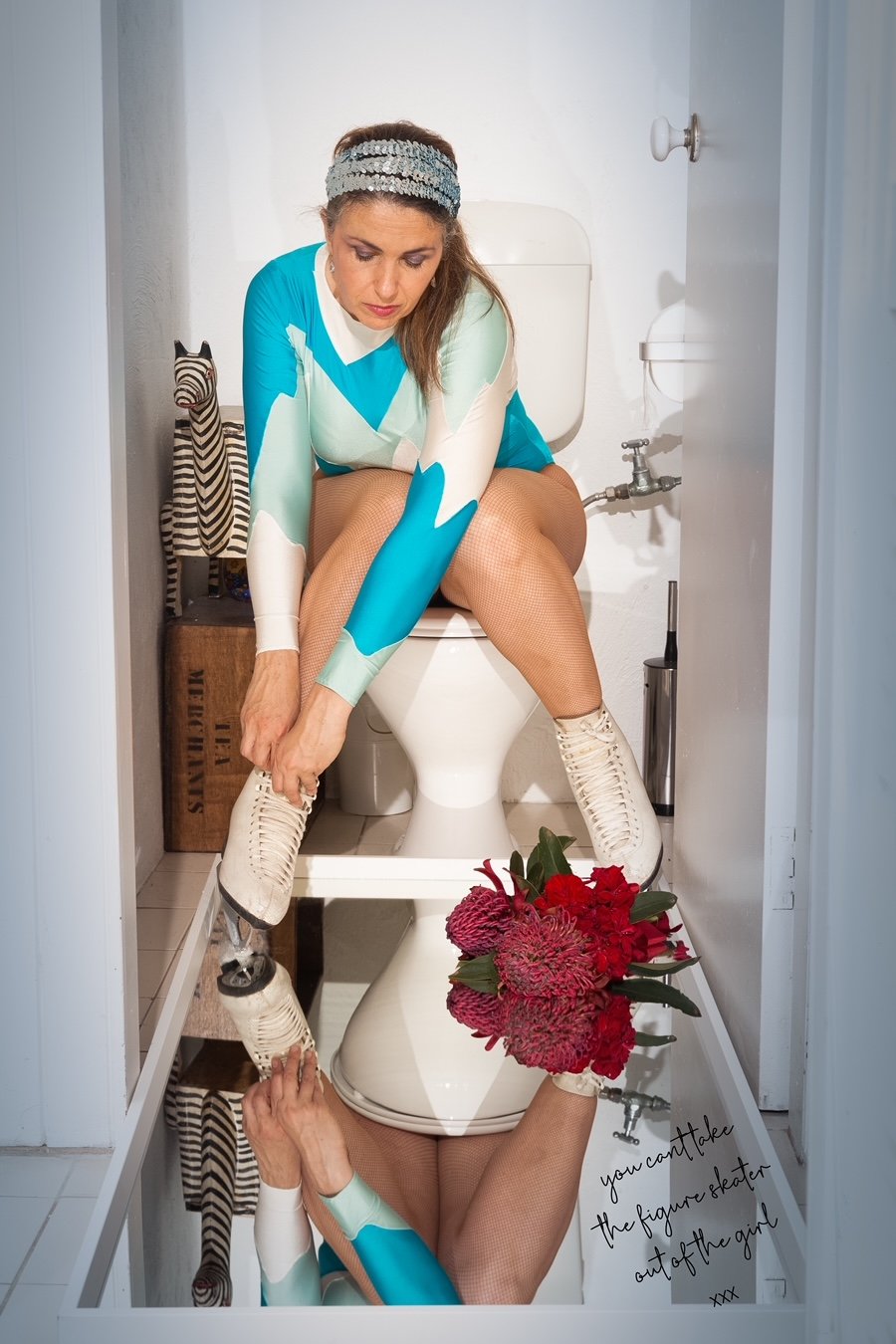 © Kadri Elcoat
Kadri is inspired by the work of David La Chapelle – the American photographer famed for his colourful, hyper-real and often subversive style. The pops of colour and the fashion editorial style are both evident in her work. Kadri said she was going for a "Vogue but wrong" look with this collection. The bath shot, entitled Coral Trout/Get Me Out, sums up the sense of being trapped in a small space.
In her "real life", Kadri is a patent litigation lawyer. She has always been interested in photography but took it up more seriously in 2017 as her creative outlet. At the end of 2019, she decided to take it further and enrolled at PSC in the Advanced Diploma of Professional Photography.
"I enrolled in the course to find my own style," she said. "And the change in the way I see the world over the past two years has been profound. As a lawyer involved in analysis all the time, it has been amazing to see the different layers of communication in photography."
"The tutors are all very supportive, and some of them have become friends, which is a wonderful and unexpected benefit. If you need something to happen with your photography, PSC can make it happen."
Finalists for the 2021 Head On Photo Awards will be announced in November. Winners will be announced during the opening night of Head On Photo festival on Friday 4 November.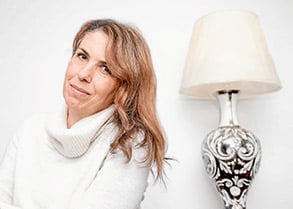 Kadri Elcoat Portrait
Read the story via Southbank News here.
All PSC's Part-Time Courses are COVID-Proof. Our hybrid teaching model ensures your study journey continues uninterrupted! Join our Part-Time Mid-Year Intake starting end of June!