PSC's Bachelor of Photography graduate Sarah Walker's new photobook 'Pelči Manor' explores the decrepit attic of a 19th-century, art nouveau structure in Latvia with a dark past. In our latest blog Sarah talks about experimenting with new photography practices, what got her spooked, and collaborating with leading Australian publisher Perimeter Books.
Sarah at her Melbourne book launch held at Perimeter Books.
'Pelči Manor was launched at the New York Art Book Fair held at The Museum of Modern Art (MoMA) last month, and officially in Australia over the weekend at Perimeter Books. When did you make it?
The book was made this year during a workshop in Latvia with the International Summer School of Photography (ISSP) [an immersive education and networking event for emerging photographers from around the world].
In fact, you were one of 72 participants chosen for the ISSP along with tutors and experts who came from over 30 countries around the world. Where exactly did you stay?
We were taken out to a small town called Kuldiga, where we stayed for a week while we attended our workshop. The project is site specific and a result of the situation, but ultimately became a great subject.
Image from 'Pelči Manor' by Sarah Walker
Tell us about 'Pelči Manor'?
Pelči Manor is a grand, 19th-century, art nouveau structure. The historically-loaded site is where Latvia ceded independence to Nazi occupation during World War II.
You shot this literally in the dark using high-flash. How did you manage this and were you influenced by other photographers?
A lot of my work is made in a controlled environment, whether it is staged or organised in some form, so shooting in the dark, not really knowing a lot of the time where my camera was pointing, and using the last photograph to guide me to the next was a very new way of working. I guess I learnt to relinquish control! The process again was a result of the situation, so I wasn't particularly drawing from other photographers, but it did feel at times a little like a scene from a Roger Ballen photograph.
Image from 'Pelči Manor' by Sarah Walker
Describe what it was like to shoot in this attic?
The attic was extremely musky, and the air was completely still with no air flow. I remember that there was a lot of hay up there, and the triangular shape of the roof kind of gave it a barn-like feeling, which felt at odds considering it was on the roof of the manor. There was also one door leading to the attic which was always locked, but on the wall next to the door was a child's painting (you'll see this in the book), and this really scared me in the context of the attic. It felt very haunted!
How did photographing in these conditions effect your state of mind?
My sensory experience in the attic was really effecting of my mood and mindset. My work is always a little eerie and creepy, but as a person I'm scared of everything, and so entering the attic every day was a challenge for my psyche. Sometimes other summer school participants would come up to the attic because they had heard about it, and I would have been there for hours already, so when I heard their footsteps or a click of another camera… I was frightened a lot.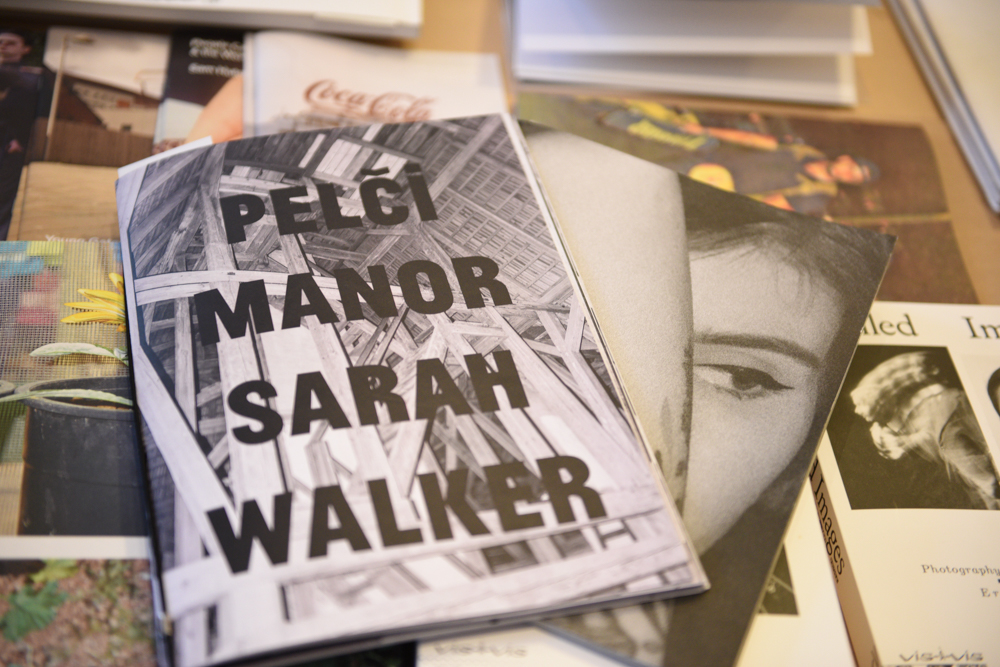 Sarah's books 'Pelči Manor' and Second Sight at Perimeter Books in Thornbury.
Your first book Second Sight won the Australia & New Zealand Photobook Award 2018, which was the result from winning the Perimeter Small Book Prize in 2018. What were some of the new challenges with putting your latest book together?
There were a lot of challenges in sequencing the book. With Second Sight, I had been working on a dummy and re-sequencing for almost a year before Perimeter were involved, but with this project I was just showing them a selection of files, giving them a sense of the project. So we came up with the 'sequencing concept' together. The project that these images are birth from was originally a video with a sound scape which dictated the order and narrative of the photographs, beginning outside the space and travelling inside.
What was it like working with Australian publisher Perimeter Books?
Once we decided the book should just include images of the interior of the attic it became in some ways much easier to put the final sequence together. Working with Perimeter on these kinds of editorial decisions was really exciting, and definitely highlighted what worked more appropriately for the book format. It's always great to have the eyes of others who can give a fresh perspective on the work.
PSC's Higher Education Course Director Daniel Boetker-Smith (centre left) with PSC graduates James Bugg (left), Sarah Walker (centre right) and Whitney Butterworth (right).
You are a graduate of PSC's Bachelor of Photography, tell us about your experience doing the program?
I learnt a lot from my teachers at Photography Studies College and have definitely felt the community aspect has been the biggest take away from my time there! I was always and still am, encouraged by my ex-lecturers to stay involved and productive, and to make the best of opportunities when they come my way.
Meet Sarah who is on a panel this Sunday 13 October at 11am at the Ballarat International Foto Biennale for the World Photobook Weekend.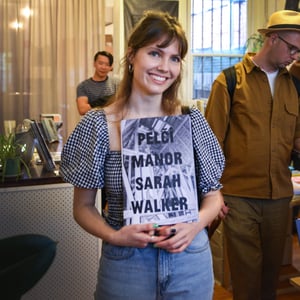 https://perimetereditions.com/PELCI-MANOR