Final Year Advanced Diploma of Photography student Nish Paranavitana had a chance to kick some of his own goals recently. Nish is majoring in commercial photography, with a keen interest in sports photography. Recently he met up with renowned sports photojournalist and PSC Tutor, David Callow. Here Nish shares his photographic journey and the value of a mentor relationship.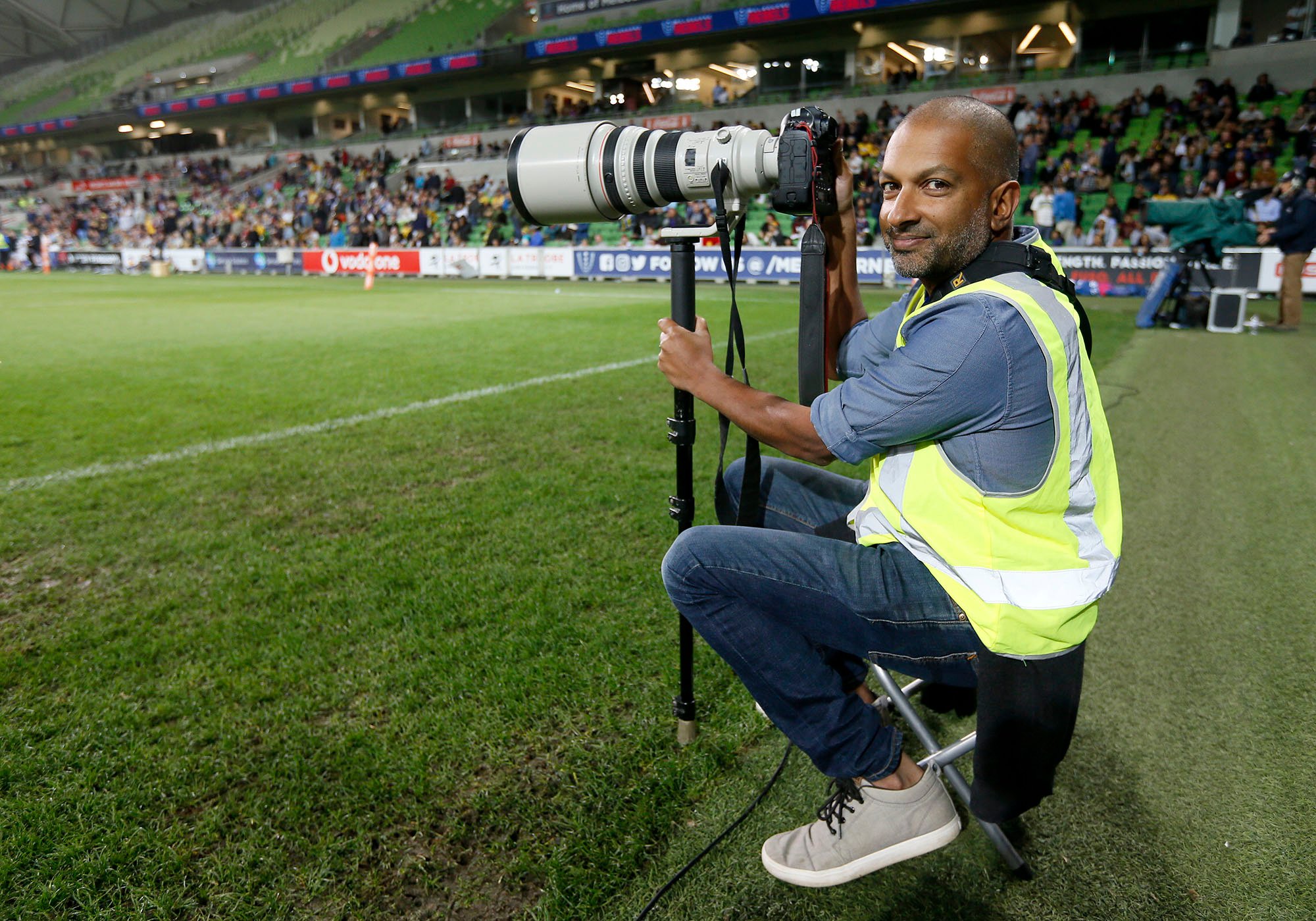 Photo of Nish by David Callow
What got you started in photography?
I loved sport as a kid and was always flicking through sports magazines, mainly to look at the photographs, rather than reading the articles. I'd always thought how cool it would be to be a sports photographer and to capture great sporting moments. I was lucky enough that my Dad bought me an SLR when I was 15, but then when I finished school and wanted to do a photography course, he said it wasn't the kind of career that I should be aiming for. At that stage I didn't have the courage to chase my dream and so I took another road. There is a long story that follows from here but it took me another 27 years before I finally enrolled myself into a course and followed my passion for photography.
When you started at PSC, did you have an idea of the kind of photographer you want to become?
No idea. I started at PSC thinking that I was just going to do a 20 week course (Creative Photography Certificate). I just wanted to improve my image taking. PSC really opened my eyes to other photographers and styles. The feedback I got initially was that my photography was too literal and I could see that. That's where the lecturers really pushed me to become more engaged about my subject matter and story telling.
Photo By Nish Paranavitana
Tell us about your excursion to the Rugby with David Callow came about?
I was so blown away to get an invite from David Callow. He invited me to come to a Melbourne Rebels Rugby game that he was photographing. I'd only met David the week before to show him some of my sports photos that I wanted to enter into the VPPY's (Victorian Professional Photographer of the Year awards) and I guess that's where the invite originated from. I have been shooting a bit of sport over the last few years but nothing like this, in a stadium at night under lights. I threw him a few questions and he gave me some pointers and I just went for it.
There were a few challenges. I only had a 200mm lens. Thankfully David lent me his 1.4x extender. We were camped behind the try line so the best shots were when the Rebels got close to a try. Unfortunately that didn't happen a lot that night. Apart from that, the game moves so fast, I found tracking the play and focusing an issue. David gave me some great tips on that front and as the game went on I got better and better. He's offered me a second go so it will be great to be able to put these skills into practice again.
What are you currently working on?
Apart from my 4th year portfolio, I've been working as a freelance photographer for 4 years now. My work is all in the Commercial space and I love the diversity that I get in my work. Last week I did a shoot for a surf board maker who was after images for his website. This week I'm photographing corporate portraits and real estate. Coming up I'm photographing a dental practice, which will be portraits, interiors and also video clips for their website
Why did you decide to change careers?
I spent 25 years in Banking and Finance. I'd kept up my interest in photography and continued to shoot over that time in the film days, but when digital came in, I did very little. It was a busy time for me, having just started family and a busy work life and I took very few photos. At that time I was also losing the passion for my my previous career and with the support of my wife, we decided that I had to give photography a go.
I set up my own business 4 years ago. For the previous couple of years I did do some weekend wedding and family photos for friends, I also did some evening real estate photography after work, so I didn't start from scratch but the initial phase of my new career was really scary. No fortnightly pay cheque, no office to go to each day and be able to chat with colleagues about challenges. I felt very alone. But slowly I started to find work, mainly through my connections in the finance world. I got far more enjoyment out of the corporate work and opportunities from my existing connection and I soon, dropped the wedding and family portraits work and focussed on the commercial side.
Nish Paranavitana recently received a Silver with Distinction award at the Australian Institute of Professional Photography Victorian State Awards (AIPP). Congratulations Nish!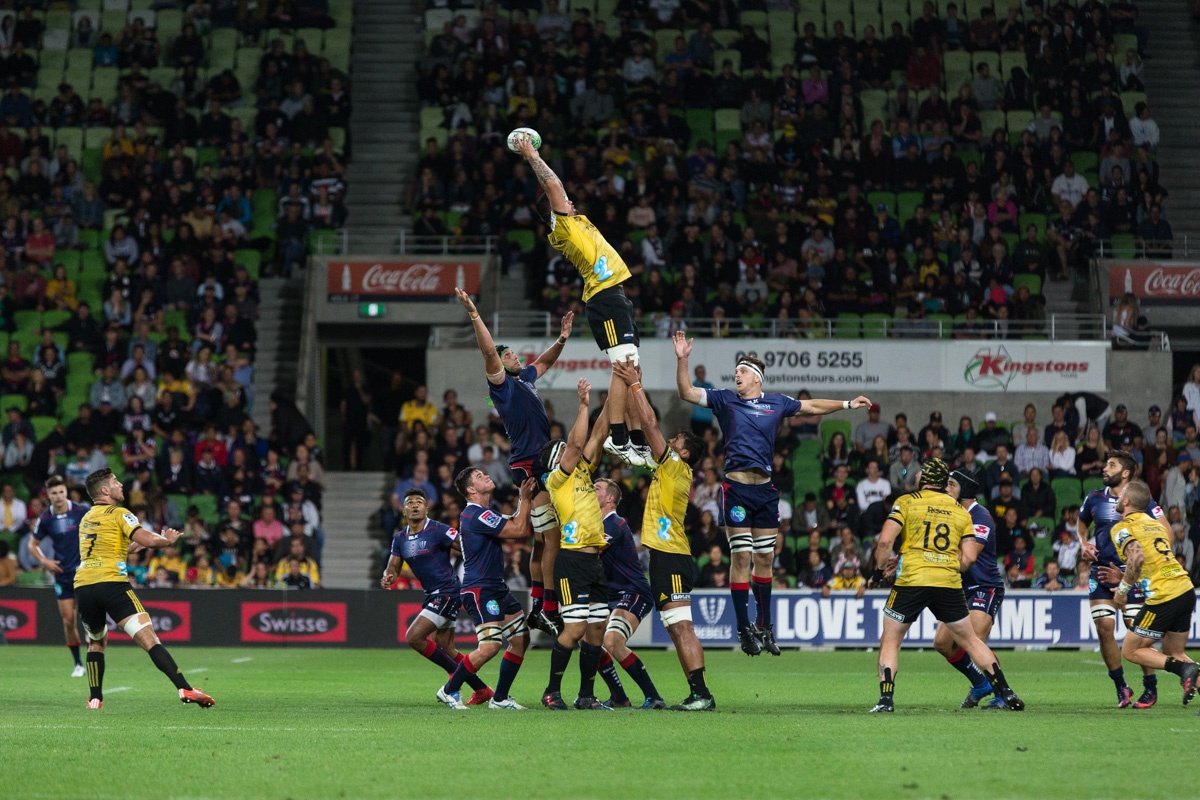 Find out more about our popular Part Time Courses and make your passion for photography into a career.